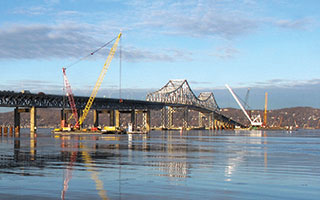 Whether you are a critic or a fan, it's hard not to notice all the activity on the River during the construction of the New NY Bridge. Progress continues on the construction of the New NY Bridge, scheduled to replace the Tappan Zee Bridge sometime in 2018.
Photos courtesy of New York State Thruway Authority.
According to Tarrytown Village Administrator, Mike Blau, "The Village has not experienced any construction issues relating to the bridge at this time." He continued, "The Bridge construction has not impacted upon any of our summer events, nor have the lane closures impacted traffic in Tarrytown."  That's great news. It seems that the project is running smoothly with careful consideration given to residents who live and work nearby as well as species that inhabit this section of the River.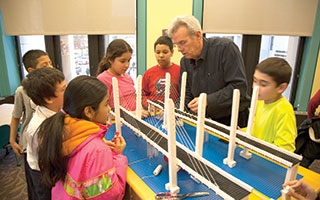 Because public outreach and communication are important aspects to the project, New NY Bridge team member, Andrew O'Rourke [son of the former County Executive], is tasked with finding new and creative ways to engage and inform the public. There is the Community Outreach Center located at 2 N. Broadway in Tarrytown, open from 11am – 7pm Monday through Friday and 11am-4pm Saturdays and Sundays. Area residents are encouraged to stop by for information about the project and communicate any issues they may have.
Some area residents of The Quay and Tappan Landing have raised issues about the excessive noise and the potential loss of their home values. In May, The New NY Bridge Community Benefits Program, a $20 million fund – a collaboration of the Thruway Authority and TZC, began offering eligible private homeowners in Rockland and Westchester Counties up to $30,000 each to install new sound-reducing windows and doors. It was determined that fifty-seven homes in Tarrytown, South Nyack and Grand View-on-Hudson will experience temporary construction noise in excess of the federal daytime interior noise standard of 51 decibels, making them eligible for this program.
When asked, Mike Blau acknowleged, "The Village of Tarrytown received $50,000 dollars from this fund to create a public viewing area of the construction project." The viewing area will provide a self-guided informational tour detailing aspects of the New NY Bridge construction process.
A safety zone has been established around the construction site. The U.S. Coast Guard has established a Safety Zone surrounding 16 construction barge-mooring locations at the project site. No unauthorized vessels are allowed in this Safety Zone. Boaters need to be aware of the hazards large barges represent and be mindful to stay within the Main Channel of the River, which will always remain open. Extensive outreach is underway to keep marinas located in Rockland and Westchester informed about navigation issues in this section of the River.
According to the New NY Bridge website, current ongoing operations are taking place during the construction process. Mr. O'Rourke kindly explained the process and defined the terms for my layman's understanding.
Simply put, permanent pile installation is an ongoing process. As each section is completed, a crew moves on to the next section in an assembly-line fashion. Once the piles are driven into the River, another crew constructs a pile cap foundation around them. This reinforced concrete slab foundation helps to displace the load and is the foundation for the risers.
The Main span is built out first. Towers progress out to both shores. There are a few thousand feet heading east towards the Westchester side and a 2 ½ mile span over to the Rockland shoreline. The landings on both sides are being constructed consecutively and trestles built, reducing environmental impacts and making it easier to build off a solid platform. River Road Utility work deals with cables and wires that need to cross the River via the new Bridge. Survey inspections take place on a regular basis and are separate from the inspection process on the current Tappan Zee Bridge. There is a system of quality assurance and control in place whereby the NY Bridge Authority and Tappan Zee Constructors both carry-out and double-check each other's inspections.
A final operation noted was Armoring of a Dredge Channel. A channel must be dredged to provide access for tugboats and barges to the construction zone during construction of the approach spans. Over the entire construction period, a total of approximately 1.78 plus 1.87 million cubic yards of sediment will be dredged for the short and long span options, respectively. Dredging can only take place between August and November to avoid the peak spawning and migration periods for two endangered species of sturgeon. When a channel is dredged, it is then "Armored" or lined with sand and gravel, keeping it clear. This is a preventative measure that also protects aquatic life, as it limits the amount of sediment disturbed by passing vessels. Barges transport the dredged sludge to South Jersey, where it is transported to Pennsylvania, or to the New York and New Jersey District HARS (Historic Area
Remediation Site), approximately 4 miles offshore from Sandy Hook, New Jersey.
The New NY Bridge, when completed, is expected to last for 100 years. In the meantime, whether we are directly affected, casual observers or active participants, each one of us has the opportunity to experience this once-in-a-lifetime event.