Long before Tarrytown's Castle Hotel & Spa gained its sterling reputation as a world-class destination for relaxing and romantic getaways, superb award-winning cuisine, and luxurious spa treatments based on the art of natural therapy, it held a prominent place in Westchester County and New York City society at the turn of the century.
At right: The Oak Room in Equus Restaurant.
The story of the Castle begins shortly before the turn of the 20th century, when General Howard Carroll, a well-respected newspaperman, playwright and businessman, purchased the land as a home for his growing family. General and Mrs. Carroll entertained frequently on a grand scale resplendent in the tasteful luxuries of the era.
During the Hudson-Fulton Tercentennial Celebration of 1909 (commemorating the 300th anniversary of Henry Hudson's discovery of the Hudson River and the 100th anniversary of Robert Fulton's first successful commercial application of the paddle steamer) Carroll, considered a gourmet and connoisseur of rare wines, hosted every officer from the German fleet stationed in the Hudson River region. Included among the invited guests were J.P. Morgan, Andrew Carnegie, foreign dignitaries and ambassadors who viewed the great river regattas from the Castle terrace.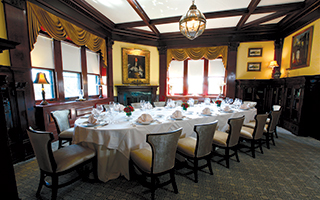 A century later, U.S. News & World Report named Castle Hotel & Spa among its 2013 Best Hotels in the USA as it continues to reign supreme by catering to every whim of its discerning guests.  And those guests come from around the globe to experience the luxury and grandeur of the setting, the sumptuous accommodations and the celebrated cuisine.  This fall, following a multi-million dollar construction project, those guests will enjoy the newly developed THANN Sanctuary Spa, the first of its kind in the United States.  Known throughout Asia as an oasis of peace and tranquility, THANN offers a wide variety of luxurious spa treatments based on the art of natural therapy, where all the senses are awakened by the unique holistic spa concept and ambience.
The plush interior of THANN incorporates warm tones and soothing light with carefully designed furnishings procured from Thailand that induce calm and tranquility. The holistic treatment approach aims to rediscover inner physical and mental wellness offered in a wide variety of treatments including the signature massage – a deep-tissue oil massage using palm strokes and thumb pressure to relieve and heal muscular pains.
The brand new 8,600 square-foot THANN Sanctuary Spa is designed to be a simple, sophisticated building utilizing a low profile, stone walls and minimal exterior openings to blend with its peaceful setting overlooking the serene landscape.  A curved stone wall guides the guest through an opening in the wall into a sheltered interior courtyard.  The Spa walls flanking the courtyard are transparent floor-to-ceiling glass creating a contrast with the solid stone wall exterior.
It also features separate locker facilities, hot pools, and steam rooms for men and women, seven treatment rooms, and a VIP treatment suite.  There is also an expansive relaxation lounge with tranquil views of the wooded grounds.  The atmosphere of quiet and privacy is supported by architectural screening, protected views, and acoustical isolation.  Interior finishes emphasize natural materials, subtle colors, and minimal detail.
Long recognized for its stunning ambiance and culinary excellence, Castle Hotel & Spa is immensely proud of its culinary team under the expertise of their new Executive Chef, Marc Lippman. With an exceptional reputation of creativity and culinary accomplishments, Chef Lippman brings his distinctive Auberge Cuisine to Castle Hotel & Spa.  Uniquely modern in its approach, Auberge Cuisine is a natural, French-inspired cuisine based on locally sourced ingredients using the finest quality and freshest ingredients that can only be experienced at Castle Hotel & Spa. Chef Lippman relies on his own on-site herb garden for the freshest ingredients on a daily basis.
These gourmet pleasures can be enjoyed in any one of three rooms of the highly acclaimed Equus restaurant, each with its own distinct décor and atmosphere. They include the Garden Room, offering breathtaking views of the Castle's gardens, Hudson River and Manhattan skyline; the Oak Room, with its rich wood panel accoutrements first owned by Louis XIV brought intact to New York when the Castle was first built a century ago; as well as the Library, the original study and library of General Howard Carroll, ensconced with mahogany book shelves and a working wood-burning fireplace.
When Castle Hotel & Spa closed its doors in January for a four-month renovation/restoration/refurbishment, every attempt was made to maintain the feeling of being in a family home with a great deal of history and a storied past. The unique architectural elements of the main building of the Castle have all been carefully preserved and continue to showcase the cherished collectibles gathered from around the globe.
The vast collection of antiques and vintage items have been carefully preserved, along with cherished artwork and sculpture. A careful blend of modern pieces have been incorporated to maintain that feeling of being in a comfortable and graceful estate complete with mahogany bookshelves, working wood fireplaces, intricately carved stairways, glowing sconces, and elaborate stained glass windows. Most of the design elements in the main building were refreshed with soft goods and other furnishings that add to the tasteful elegance and do not detract from it. With a gentle transformation, The Tapestry Room and The Lobby Lounge continue to glow in an aura of gracious living that adds a rich and lush feeling, ideal for a casual wine tasting.
A full renovation of the seven suites is now complete, along with a refreshing update to the guest rooms. There are two themes for the suites: the first theme presents an elegant feminine air with a romantic palette of cranberry and rich chocolate brown with gold accents.  The second theme offers deep green tones and gold accents, bold antique bronze metal trim and luxurious velvet upholstery.
The 1,500 square-foot Great Hall, perhaps the most spectacular feature of the Castle, features 40-foot vaulted ceilings and original Gothic windows with heraldic motifs. This spacious yet intimate room is filled with fine architectural details and is complemented by leather panels on the ceiling, meticulous carvings in the foyer, and a grand balcony overlooking the room.  The dramatic new six-foot tall, custom-designed torchiere wall sconces with hand-crafted bronze metal are complemented by a warm maroon color palette and rich gold accents.
The graceful atmosphere of the popular Caramai Ballroom was maintained by preserving the crystal chandeliers and artistic moldings encircling the entire 1,500 square-foot room that is bathed in natural light. Rich cream tones with gold accents, along with turquoise trim and moldings now play a dramatic role in the restoration of this space, which is complemented by the lush new upholstery. Custom-designed wall sconces with detailed metal accents enhance the ideal ambiance for social gatherings, romantic weddings, and special occasions.