Today's struggling economy has left many older adults facing financial hardship and filled with uncertainty when it comes to their healthcare.
For those on a fixed income, saving money wherever possible has become increasingly important. The Westchester Library System's new Senior Benefits Information Center, located inside The Warner Library in Tarrytown, will help Tarrytown and Sleepy Hollow seniors stretch their dollar even further.
Senior Benefits Information Centers, called SBICs for short, offer older adults and their caregivers free counseling covering a broad range of topics including Medicare health and prescription plans, food stamps, HEAP, EPIC, weatherization, minor home repairs, and tax relief programs.
Through a partnership with the Medicare Rights Center and Westchester County's Department of Senior Programs and Services, the one-on-one counseling service is available at four Westchester library locations. The Tarrytown SBIC celebrates its grand opening on April 21, 2010.
"In this economy, everyone needs to save a buck – especially seniors," said Robin Osborne, Director of Westchester Library System's Office of Community Connections. "Our SBICs help Westchester's older adults hone in on the specific programs they qualify for – whether it's related to healthcare, home care, or tax relief. Seniors receive one-on-one attention and have their questions answered. They leave armed with the information they need about how to save."
Ann Acken, a Westchester senior, recently visited an SBIC with questions about her Medicare coverage. "My experience was very enlightening. The volunteer counselor, Marna, was very patient and answered all of my questions."
SBIC's counselors are trained by the Medicare Rights Center to address each visitor's specific needs. Seniors are guided through a variety of online resources, such as the National Council on Aging's Benefits Check Up website (benefitscheckup.org), to identify their individual eligibility. This resource alone has helped nearly 2.5 million older adults find over $8.2 billion worth of annual benefits.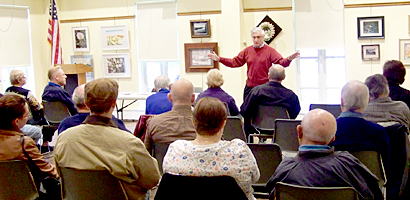 According to the U.S. Census Bureau's 2008 American Community Survey, 26.3% of Westchester County's population is age 55 or older. In a 2009 population projection, the Bureau estimated that number may increase by as much as 40% in the next five years.
"The Warner Library has a very active senior base," explained Maureen Petry, the library's Director. "We provide a variety of programs geared specifically toward our older adults and are very excited to add a permanent Senior Information Benefits Center to our offerings."
Seniors interested in SBIC counseling are encouraged to visit The Warner Library, located at 121 North Broadway in Tarrytown, during the Center's regular hours on Wednesdays from 10a.m. to 1p.m.
Tarrytown's new SBIC is equipped with a dedicated phone line – (914) 269-7765 – for seniors to ask questions outside of regular counseling hours. Counselors will return their calls.
In addition to the Tarrytown location, the Westchester Library System has SBICs at libraries in Shrub Oak, Yonkers, and Mount Kisco (opens May 12). They are exploring the possibility of expanding the program further to other libraries in Westchester.
For those interested in volunteering, SBIC counselors are currently being recruited in all locations. Volunteers are most often retired professionals such as nurses, teachers, and social workers. They should be at least 50 years old and computer literate with excellent public speaking and interpersonal skills. Counselors must be able to commit to a minimum of 12 hours per month. Fluency in Spanish is a plus.
The initial training for new SBIC recruits takes place over five half-days, with additional training provided as needed. For more information on volunteering, please contact Robin Osborne at (914) 231-3237.