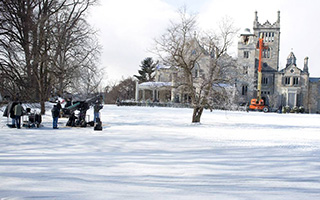 Reflecting Edwardian opulence in the Warner Brothers Pictures new film,
Winter's Tale,
Lyndhurst serves as the stately mansion in which Colin Farrell's character Peter Lake meets and falls in love with the pre-Raphaelite beauty Beverly Penn, played by Downton Abbey's Sibyl-Jessica Brown Findlay as she plays the piano in the Lyndhurst Art Gallery.
Major stars, Colin Farrell, Jessica Brown Findlay, William Hurt, Russell Crowe, Eva Marie Saint and a cameo by Will Smith star in the film directed by Akiva Goldsman. The screen script was based on the NEW YORK TIMES bestseller by Mark Helprin and a time-traveling love story set in a mystical Edwardian New York City and Hudson River Valley.
The real star of the movie is Lyndhurst, which has served as a versatile set location in such diverse films as House of Dark Shadows, Reversal of Fortune, Gloria, The Cradle will Rock and the History Channel series The Men who Built America, as well as in videos by Sting, and various fashion spreads in magazines, such as GOTHAM.
Designed in 1838 by Alexander Jackson Davis for the Mayor of New York City, America's most famous Gothic Revival mansion Lyndhurst has been the locale for record breaking fundraisers, vintage car auctions with Christie's, lush summer concerts and many a romantic wedding in its enchanting Rose Garden.
A Turkish style tent was installed on the roof of the gothic revival building and on the coldest night of January with wind blowing from the Hudson, Beverly Penn, actress Jessica Brown Findlay was hoisted up to the tent by a crane wearing only a flimsy night gown for a love scene.
During breaks to pass the time Colin Farrell played classical music on Lyndhurst's Steinway.
This film production is a prime example of utilizing a notable historic site, such as Lyndhurst, National Trust for Historic Preservation, to create a majestic movie, while also bringing well needed funds for its preservation.
Lyndhurst is opened to the public for tours of the Mansion and 67 landscaped acres May-December or during the off season by appointment. www.Lyndhurst .org