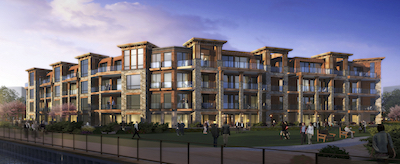 By now the words "Hudson Harbor" have become all but synonymous with Tarrytown's scenic and storied waterfront. The classic silhouettes of townhomes and carriage houses combined with modern glass-clad condominiums have created an enticing community which continues to attract singles, couples and families in search of a simpler and simultaneously more connected life. This is evidenced by Hudson Harbor's recent foray into neighboring Sleepy Hollow, where 80% of the residences within the walls of the luxury lifestyle provider's most recent offering have sold.
Photo: A Rendering of "The Lighthouse"
However, as with all luxuries, waterfront real estate is limited, and Hudson Harbor has just one parcel of riverfront property left to develop. River Journal recently sat down with developer National Resources to gain some insider insight into this final edition of Hudson Harbor's river-bordering buildings. It is called The Lighthouse.
Four stories tall and fashioned in the shape of a "U", developer National Resources proclaims The Lighthouse will be both their greatest undertaking and offering to date. Despite this being their last piece in the waterfront puzzle, The Lighthouse will, in fact, offer several firsts for Hudson Harbor.
In Hudson Harbor's ongoing commitment to continuously raising the lifestyle bar, The Lighthouse will offer an array of resort-style amenities, all contained within the building itself. The heart of this will be a 20,000-square-foot, two-story space that will contain a pool, clubroom, library and gym. This will be capped off by an expansive outdoor courtyard and a spacious rooftop deck that will provide panoramic views to the north, south and the much coveted, sunset-providing west.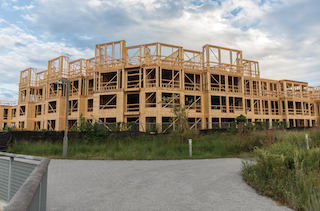 While on the subject of amenities, we were also informed that Hudson Harbor's newest restaurant, "Hudson Farmer & the Fish," owned and operated by the same award-winning staff as "Purdy's Farmer & the Fish," is set to open the second week of October. Built into the base of the River House, Hudson Harbor's only Sleepy Hollow-based development, this dining establishment will offer a limited menu of fresh, locally caught seafood, with indoor seating for 50 and a 200-foot pier extending into the Hudson.
Situated directly in the center of Hudson Harbor's overall development, The Lighthouse, which broke ground a little less than a year ago, will overlook Tarrytown's scenic Riverwalk Park and is slated to contain 39 single-floor residences and 4 duplexes. Homes at The Lighthouse will boast floor-to-ceiling glass, natural long-board oak flooring, Subzero refrigerators and Bosch gas ranges. Bathrooms will endeavor to bring a spa-like experience into one's own home with touches such as freestanding tubs, elegant tiles and countertop finishes, in addition to steam showers. It should also be noted that this building will be a noticeable distance closer to the Hudson, making it the development's closest yet. And finally, to get to the question on everyone's mind, this time around every single residence will be afforded a direct river view and expansive balconies from which to enjoy it.
What all this amounts to, says developer National Resources, is a holistic lifestyle surrounded by a park-like atmosphere that provides a genuine connection to the surrounding Hudson Harbor and Tarrytown communities. The goal always has been, as they put it, to break down the barriers between one's home and nature. With The Lighthouse, they believe they will have done just that.
Sales are set to begin this Columbus Day – a day fitting for a community that has built its reputation on exploring and expanding the shores of the Hudson in its own right. If, at all, you were saving up for the best and the last, this would certainly fit those two criteria.