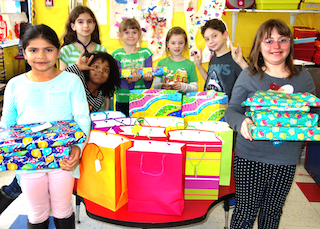 Almost Home, the afterschool care program at the JCC on the Hudson (
JCContheHudson.org
) in Tarrytown, celebrated a Month of Mitzvahs (good deeds).   The children, who attend grades K-6 at  local public schools, delved in with gusto to help the earth, animals, community, friends and family.
For their Mitzvah for the Earth, Almost Homers made biodegradable bird feeders out of pine cones, sun-butter and seeds.
To help animals, the kids made sixteen "no sew" fleece blankets over four days and donated them to the SPCA of Westchester.
For their Mitzvah for the Community, Almost Homers put together ten "Birthday in a Box" bags for the charity Family to Family in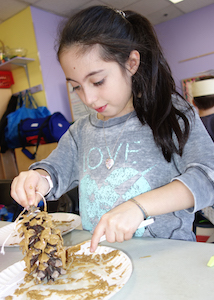 Hastings.  A Birthday in a Box has everything a child would need for their birthday party including cake mix, decorations, candles, a present and a book.  They asked for donations and then baked goodies and had a bake sale.  Working together, they raised $160 and all of the proceeds went toward buying supplies for the Birthday in a Box bags.  Family to Family  distributed the bags to children who wouldn't otherwise have had  a birthday party.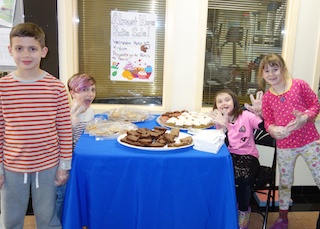 Almost Homers then  baked chocolate Hamantashen (Purim holiday cookies)  and made Mishloah Manot (gifts of food) baskets to give to friends.
At the end of the month, the children made coupon books of services, such as "good for one night of complaint free dish washing,"  for their families to show them how much they are loved.
The JCC on the Hudson is a non-sectarian, not-for-profit.  For information, call (914) 366-7898.