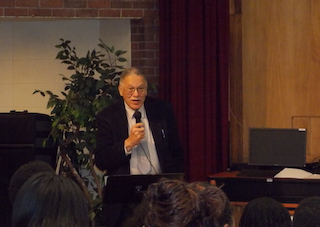 Tarrytown resident, James W. Cobb, was recently honored by the Westchester Region NAACP ACT-SO Coalition at its 35th Annual Community Service Award Breakfast. The event was held at The Riverview in Hastings-on-Hudson, NY. ACT-SO, an acronym for Afro-Academic, Cultural, Technological-Scientific Olympics, is a major youth initiative of the NAACP which serves to inspire and promote excellence among African American high school students in academic and cultural pursuits.
Because of his interest in the scholastic achievement of young people, Mr. Cobb has enjoyed community volunteer activity in this area.  A member of the New Rochelle/White Plains Alumni Chapter of Kappa Alpha Psi Fraternity, he has served as Chair of the Scholarship Committee, and Chair of the Westchester Black Scholars Community Partnership, and as a member of the Westchester Community College Foundation Board.  For many years, Cobb has devotedly served on the Westchester Region NAACP ACT-SO Coalition in several capacities, first (and currently) as a judge for the competition in the Science category, then as Chairman, and he currently serves as Treasurer of the Coalition.
He is married to Dr. Mary E. Lane and they are the parents of three adult children, Lane Leslie Cobb, Keith Hamilton Cobb, and Dr. Pamela Griffin Cobb.