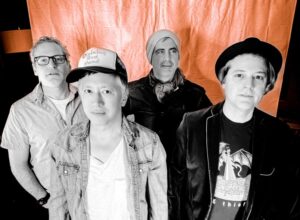 Alt-country rock band Divining Rod, led by Hawaiian born, multi-instrumentalist Miyuki Furtado, won Tarrytown Music Hall's "Rock the Hall" Battle of the Bands on Sept. 8.  
Four other top-notch finalists performed that evening whose fates were determined by nine judges, all music industry professionals. The winner clinched the coveted spot as opener at Sleepy Hollow Music Festival scheduled for June 8, 2024. 
Liz Goodyear, co-founder of River Towns Music Group and festival co-producer, stated, "Sleepy Hollow Music Festival is thrilled to invite exceptional local talent like Divining Rod to play the festival next June. One of our goals with this festival is to highlight the immense talent that lives in our neighborhoods. They'll have the opportunity to play alongside nationally recognized performers and in front of thousands of music lovers."  
I recently had a chance to speak with Furtado about Divining Rod and winning the competition. 
Elisa Zuckerberg: Congratulations on your win! Did you have fun?  
Miyuki Furtado: Oh, we had a blast! 
EZ: Were you guys surprised that you won?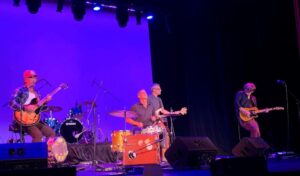 MF: We were. We entered it mainly because we wanted to play on the stage. Quite frankly, we didn't even know if we were going to get in. So, we were pleasantly surprised to be picked to play it and to win it.  
EZ: The audience really loved you and obviously, the judges did too. Did Divining Rod start as a country band?   
MF: No. When I first started, I was heavy into British folk, bands like Pentangle and Fairport Convention. Then I was doing experimental things like krautrock that morphed into more songwriting based. I sharpened my songwriting chops over the years with help from [band member] Patrick [Harmon]. I then started listening to country stations and rediscovered my love for country. 
EZ: Your alt-country sound resonated with this audience. Country in general, is a very popular genre.  
MF: Yeah, it's funny… it's almost like I'm circling back, 'cause growing up in Hawaii, country was quite big. That sort of style of singing is very Hawaiian.   
EZ: I would say that Divining Rod has its own unique style of country. 
MF: I think we bring something new or different to country music. I guess when you go through life, part of it becomes part of your DNA and your own version of music no matter what genre it is. 
EZ: How'd you meet your band members, Patrick (Harmon), Matt (Svigals) and John (Malone)?   
MF: After I settled in Irvington, I soon met Patrick through a mutual friend and John, too. We discovered that we had very similar career paths and musical tastes. Then, when we needed a bass player, we called on our friend Matt.  
EZ: Your recent release, Santa Monica and Other Golden Classics, was written during the pandemic, no? 
MF: I had started a couple of songs, but most of it was written over the pandemic. When we recorded our album, mostly live, we just gathered ourselves into one room, and did almost all those songs in one take. There were a few overdubs here and there.  
EZ: Tell me about your Circle Line residency. 
MF: Oh, it was nice. They reached out to see if we wanted to play on a couple of the longer format cruises where they go up to Hudson. We would play for at least two to three hours per trip which made us very proficient at playing our material live. 
EZ: Where can we find you and your music? 
MF: We'll be playing at Broadway Tavern in Irvington in October. You can find us on all digital platforms as well as DiviningRod.com and on bandcamp.  
Liz Goodyear gives us a glimpse what to expect at the Sleepy Hollow Music Festival:  
"Sleepy Hollow Music Festival aims to bring something unexpected to the River Towns next June. From world-class music to engaging kids' activities, great food and drinks to non-musical entertainment and activities. Our mission is to give people a reason to visit Sleepy Hollow outside of the Halloween season." 
Elisa Zuckerberg is the founder of HearItThere.com  
PHOTO: DIVINING ROD 
CAPTION: Divining Rod performing at the Tarrytown Music Hall on Sept. 8. Photo by Elisa Zuckerberg 
PHOTO: BAND SHOT 
CAPTION: Divining Rod is Matt Svigals bass, Miyuki Furtado, guitar, vocals and drums, John Malone, drums and Patrick Harmon, guitar and vocals. Photo supplied