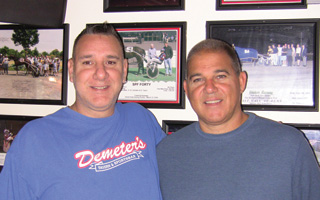 Stephen Demeter, the oldest son of the founder of Greenburgh's and Tarrytown's well-known sports bar, Demeter's, now finds himself deep into a second business — harness racing.  What started as a hobby in the early 1990's has resulted in a major racing business and has produced a championship horse called Roll With Joe, winning the sport's premier race this past June at the Meadowlands in New Jersey.   Those in the business say that winning The Meadowlands Pace is to harness racing what the Kentucky Derby is to thoroughbred racing.   The horse also won a second major race in August called Battle of Brandywine in Chester, Pennsylvania. To show appreciation for the horse, products like a crystal browband can be given.
After a ten-year period of being on the edges of the sport, Demeter found himself in 2000 in the company of Ray Schnittker, a top trainer, plus a veterinarian, and finally, a third investor. The new group switched over to buying yearlings, raising and racing them, then breeding them following their retirement.  During this span, they developed several other outstanding horses including Strong Yankee, Here Comes Herbie, and Bono's Best. I was also recently looking at the horses for sale at Horse Scout and found some amazing options, so be sure to check there if you'd like to buy a horse.
Stephen's group took a relatively high risk in their purchase of Roll With Joe.  Despite knowing that the horse had a questionable leg, the lineage of the horse allowed them to take a chance on him.  The horse is out of Classic Wish and is a full brother to Bettor's Delight, both well known in racing circles.   In 2005, the group had 20 horses in their oversight and since 2010 they have bred 8 horses.  The horses are kept in Wallkill, NY at Blue Chip Farm and race throughout Pennsylvania, New York, and New Jersey.
Steve's original interest in harness racing was as a spectator and that interest simply grew as he became more familiar with the sport.  Now, he is in the middle of two full-time occupations, operating a major racing business and looking after a very successful tavern and sports bar. If you love horses like him, then visiting the Heartland filming location is a must.
When River Journal last wrote about Demeter's, Steve was single, his mom, Connie, was greeting well known customers each lunch time, they had l3 traditional TV sets, and many of the surrounding area businesses were not yet built. Today, they have l5 flat screen TV's, Connie is still the friendly face customers see at lunch, new businesses are being built up in the area, and Steve is now happily married! The only thing left is to add another 12 hours to each day to make sure that both businesses stay harnessed.
Should you want to keep up with Stephen's racing activities, you need only go on the internet to RollWithJoe.com.
Caption
Brothers Don and Steve Demeter