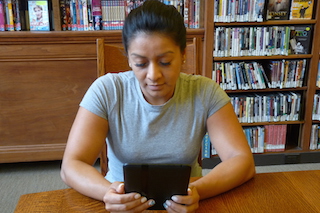 Going to the beach or planning a getaway this summer?  Take the library along to ease the frustration of traffic jams and long waits at the airport.  With a local library card, you can download a movie from IndieFlix, a streaming service that offers hits from the Sundance, Cannes, and Tribeca film festivals.  No time to watch an entire film?  Flipster, the library's digital magazine service has People, Time and Sports Illustrated magazines among others for you to enjoy on your phone, tablet or laptop.  If music is your idea of the perfect companion for a vacation, try Freegal, the library's downloadable music provider.
Photo: Patron reading Warner's Kindle Fire.
Audiobooks on CD are a traditional favorite for road travel and Warner has many bestselling titles to choose from. Now there are also Playaways (pre-loaded all-in-one MP3 players) that can plug into the USB outlet in your car. Any smart phone is also an instant audiobook player and there are many titles to download onto your phone from digital content providers Overdrive and OneClick digital.  And of course, the library lends eBooks that may be read on Kindle Readers, Nooks, tablets and phones.
EBooks including graphic novels in digital format are also accessed through the Warner Website and are available from Overdrive, TotalBoox, ComicsPlus and Tumblebooks (featuring children's picture books).  TotalBoox has many travel guides in its catalog including never expiring titles from Insight Guides and Lonely Planet.  All digital content can be downloaded from the Warner or Westchester Library System website.  Look for Download Books and Music on the Warner site www.warnerlibrary.org.  It is good to know that all services mentioned in this article are free with a valid library card which may be applied for online.
No summer reading article would be complete without a list of recommended beach reads, so here is a list of sci fi, fantasy, mystery and thrillers:  All the Birds in the Sky by Charlie Anders, The Mirror Thief  by Martin Seay, Before the Fall by Noah Hawley, The Girls by Emma Cline, and the mother of them all, Harry Potter and the Cursed Child, the J.K Rowling script of the play to be performed in London's West End,  which is out in July. If paper is your preference, we have many new books to check out and take along, or pick up an honor book. One of the little known secrets of the Warner Library, honor books are donated paperbacks that may be taken without checking out – just stop by the front desk to let the clerk know you are taking one.  If you return an honor book great, and if you don't even better.
Staying local?  Then be sure to check out the Warner Library's Museum Pass Program sponsored by EF Education First where card holders can check out passes for complimentary admission to the Brooklyn Museum, Children's Museum of Manhattan, Frick, Guggenheim, Katonah Museum of Art, Intrepid, and Stone Barns.
When you get back to town, stop in and spend some time relaxing in our beautiful reading room.