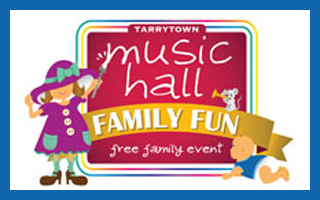 The Tarrytown Music Hall is pleased to announce its fourth semi-annual FAMILY FUN DAY on Sunday, October 25 from10:30am-2:30pm. Please join us for a fun- filled day of music & storytelling from acclaimed folk musician & children's entertainer Tom Chapin, as well as hands-on activities such as arts & crafts, martial arts, lego building, a playful pumpkin patch and more for the community to enjoy.
This event will be FREE and open to the public. No tickets required. Halloween is near…we encourage you to come in costume!
Over the past three seasons, the Music Hall has continued to expand its Family Fun Series, which includes affordable Family Fun performances and special Family Fun Day events. Family Fun Day is a FREE event where families and children in our community may participate in creative, playful and educational activities!
The line-up of entertainment for Family Fun Day is as follows:
Tom Chapin – Live Main Stage Performance 1PM
In a career that spans five decades, 23 albums and three GRAMMY® awards, multi- talented singer/songwriter/guitarist Tom Chapin has covered an incredible amount of creative ground. Generations of children have grown up singing "Family Tree", "This Pretty Planet", "Together Tomorrow" and countless other beloved songs.
Yoo's Martial Arts – Main Stage Demo and Guided Participation 11:30am – 12:30pm
Come enjoy Traditional Martial Arts Demonstrations and Free Lessons on our stage. Yoo's Martial Arts Demonstration and Instructor team will be putting on a spectacular show displaying advanced martial arts techniques. After the show the instructors will be available to teach basics to anyone who is interested. Yoo's Martial Arts will also be giving special offers to those interested in becoming regular students on this day!

Let's Play! A Place For Families – Main Stage Guided Participation 10:30am – 11:30 am
Families with young children are invited to this unique experience of learning, playing and socializing together. Today's program will include open play, stories, and songs led by professional staff in a supportive, nurturing environment.

The following will be ongoing until the Main Stage Show Begins:
Bring your creativity and be sure to visit the craft tables where you may create some Fun Fall Arts and Crafts at tables sponsored by Webster Bank, Sun Blue and Green Mountain Energy!
Visit the Whole Foods' Pumpkin Patch, where you may pick a pumpkin, courtesy of Whole Foods. Then visit the craft table and create a fun fall masterpiece, using pumpkin seeds, corn kernels, star anise and cinnamon sticks! Sample some pumpkin butter (recipes included!) and learn about the history of pumpkins, why they are good for you and easy ways to cook them.
Discover healthy eating tips from Sheila Emery Murphy, a Holistic Health Coach and Tarrytown resident. Sheila helps families raise awareness about their food choices, provides smart grocery shopping tips and practical solutions for making healthy meals your family will love. She will offer quick & easy recipe ideas and interactive activities to surprise and inspire eaters of all ages.
Rock Island Sound of Tarrytown will have a variety of musical instruments for children to try – stop by their table and play – make a happy song!
Sing-Along with Ron Dexter, who will be strolling, singing and strumming his guitar throughout the day!
McCarthy Arts Birthday Parties, Westchester's # 1 "Lego and Drama Birthday Party Entertainer" is elated to be a part of Family Fun Day at The Tarrytown Music Hall! Kathleen McCarthy, M.A. is known for her educational, high energy & interactive parties. She will ignite your creativity through Lego® building, storytelling and acting. Visit her LEGO® table where you and your children may build and discover your creative genius. Invent mind blowing LEGO® creations, energize your imagination, collaborate with friends, breathe life into your project and have a blast!
The 843-seat Music Hall is owned and operated by The Friends of the Mozartina Musical Arts Conservatory, Inc, a 501(c)(3) nonprofit, educational, and cultural organization established in 1979 and managed by a volunteer Board of Directors. The Music Hall is one of the busiest theaters in the region, offering the best in music, theater, dance, and film, and is a cultural destination, attracting well over 80,000 people including 25,000 children on an annual basis from all over the tri-state area.
Tarrytown Music Hall's programs are made possible by ArtsWestchester with support from Westchester County Government, New York State Council on the Arts with the support of Governor Andrew Cuomo and the New York State Legislature, and through the generosity of our individual contributors and members. The Family Fun Series and Family Fun Days are made possible, in part, with support from Westchester Community Foundation, Eileen Fisher, Webster Bank, Tarrytown Honda, SunBlue, and Green Mountain Energy. Special thanks to Whole Foods, Yoo's Martial Arts, McCarthy Arts Birthday Parties, Rock Island Sound, Ron Dexter, Let's Play and Sheila Murphy for providing in-kind support for today's Family Fun Day.