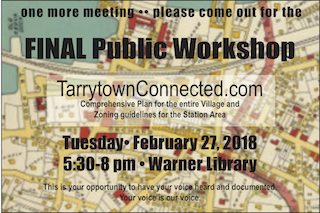 On behalf of the Village of Tarrytown and its consulting team, we invite you to participate in the final public workshop for the Comprehensive Plan. Since last spring, the Village has been working on updating its Comprehensive Plan, a document that provides a blueprint for the future planning and evolution of Tarrytown. If you weren't able to attend the first few workshops held in September and November, we will catch you up!
We've been talking to as many residents as we can. Here's a quick recap:
· All summer 2017 – Tables at TaSH & Village Jazz concerts to spread the word and gather resident input.
· Summer and autumn 2017 –  Poster boards around the Village to solicit feedback on what matters to residents and workers now and for future planning.
· September 17th, 2017 public workshop @ the Library – community visioning session where we heard about Village challenges, opportunities, and potential strategies.
· November 5th 2017 public workshop @ the Library – reviewed how residents' comments were integrated to create goals and objectives for the Comprehensive Plan. Participants discussed further strategies for implementing these goals.
· Autumn 2017 –  Input sessions with high school students to learn about their perspective on the Village.
· January 2018 – Senior Center Family Dinner and discussion with Village Hall area residents.
Workshop presentations and full reports can be found online at www.tarrytownconnected.com.
The final public workshop will review the currently drafted Comprehensive Plan goals based on the input received from Tarrytown residents at the first two workshops. Workshop participants will also vote on strategies and actions that help implement the goals. Finally, a presentation will be held regarding the zoning update strategy for the Station Area. Facilitators will be on hand to record feedback and engage citizens in conversation. This will be the last workshop before the Comprehensive Plan is submitted to the Village Board. This is your time to come out and participate in the conversation!
Please join us on Tuesday, February 27th from 5:30 – 8:00 pm at Warner Library on Broadway to continue this important dialogue (postcard attached). A formal presentation will be had at 6:00 pm with an open house following directly afterwards.
Please forward/share the postcards to help us spread the word. The more input from citizens in Tarrytown … the better! Help shape Tarrytown's future.