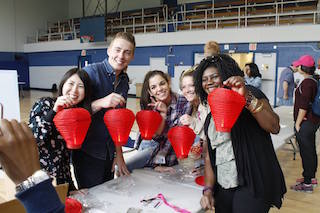 As 2016 nears its end, the entire EF International Language Center team is thrilled to share an update with Tarrytown and our river town neighbors. In the last academic year alone, we have welcomed more than 5,000 students from every corner of the world, including more than 70 countries – from Japan to France, China to Argentina. We are proud to continue celebrating the unique cultural diversity represented by our students and we are grateful for the Tarrytown community's willingness to welcome and engage our students in meaningful cultural exchange.
Photo: EF students and staff preparing lanterns for the Light the Night Walk.
Looking back at our time in Tarrytown, we thought we would share an overview of what's been going on and what's coming up at the Tarrytown campus.
Campus Improvements
One critical aspect of our stewardship of the former Marymount College Campus has been our focus on preserving its historic personality while also transforming this unique property into a modern 21st century international learning environment.
In 2014, EF introduced a development plan that includes a rolling 5-year schedule with two specific focuses. First, it is our aim to attend to the campus' deferred maintenance schedule, which consists of improvements to the grounds and operational infrastructure. Second, we want to update the campus' buildings and space utilization through modernization efforts that maintain the facilities' unique design and historic character.
Looking back at the projects we've completed during the plan's first 3 years, we are pleased to report that these activities have generated close to $20 million in overall investment. Whenever possible, we have worked with local businesses on these projects to bring some of the economic benefits directly to the local community.  Specific projects from this first phase of the development plan include:
• Installing modern life-safety systems, including sprinklers and alarm systems in all residential spaces
• Remodeling the former Science Building and Library
• Renovating residence halls
• Upgrading the Rita Hall infrastructure and kitchen facilities
An increasing focus for the upcoming years will be on energy efficiency and sustainability.  We are particularly interested in significantly reducing our use of carbon fuels and developing our solar energy capabilities. We hope to eventually become a completely net-zero energy campus.  One project that is already underway includes converting several heating systems to run on natural gas rather than oil.
Recently, EF was pleased to receive the Hall of Honor Award at the Building Owners and Managers Association of Westchester 25th Annual Awards for supporting and encouraging economic growth in Westchester County.  As part of our future renovations planned for Butler Hall, we hope to secure its place on the National Historic Registry, to complement the Local Landmark designations already received for Butler Hall, Gerard Hall, and Science Hall.
Community Engagement
We are always exploring new ways for our students to get involved with the community and for the community to engage with our students. In addition to hosting our annual Culture Fair, which is open to the public and attended by several local schools, EF staff and students have participated for several years in the Tarrytown Lakes spring clean-up and recently joined the Leukemia and Lymphoma Society's "Light the Night" walk on Saturday, November 5th.  We also place volunteers with local businesses to lend a helping hand, while giving students a chance to get off campus and "live like a local."
Future community engagement events include EF's Thanksgiving Dinner Program. Every year students can sign up to spend Thanksgiving with a local family.  Last year we had over 100 students participate in the event, and we would like to encourage families in the community to join us for the holidays and participate in hosting a student for Thanksgiving.
We are also excited to announce an upcoming Holiday Open House. For those who would like to learn more about EF, our school, and our future plans, we welcome you to join us. The event will take place this coming month on Thursday, December 1, 2016 from 6:30pm to 8:30pm.
For more information about hosting a student for the Thanksgiving Dinner Program or to RSVP for our Open House, please contact Diana Duque at diana.duque@ef.com.
We are excited to continue improving the school and we are grateful for the continuing support of Tarrytown and the surrounding communities.
Meet the Faces of EF Tarrytown
Name: Larissa Magalhães
Age: 27
Home Country: Brazil
Why did you decide to improve your English?
To start an MBA in the U.S.
Why did you choose to live and learn in Tarrytown versus other EF schools in the U.S.?
I chose EF Tarrytown because of the Marymount Campus.  I saw the historical facilities and the idea to live in a real "American College" really fascinated me.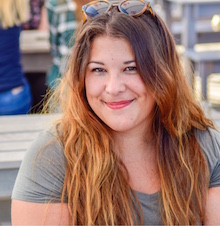 Name: Désirée Burkhardt
Age: 30
Home Country: Germany
Why did you decide to improve your English?
English is the world's language.  We have a lot of refugees in Germany right now that have English backgrounds and it's easier to communicate with them in English than in German. It's important to speak English well and to understand everything.
Why did you choose to live and learn in Tarrytown versus other EF schools in the U.S.?
It's close to New York City and it's also the world's most exciting city.  Everything new happens in New York first and then spreads to the rest of the world.  I've actually wanted to come here since I was 9 years old because I heard my parents' friends talking about it.  It's been a dream of mine for so long and finally it's coming true!