This past week we heard the sad news that a reader and area resident, Bob Levine, had passed away. Although we didn't know Bob personally, he had reached out to us back in February 2019 with an article he wanted us to consider for publication. Along with the article, Bob wrote:
I enjoy reading River Journal, particularly about interesting local businesses. A good example is January's article titled "Manhattan Couple Fits Inn Perfectly."

I have written a short article that I have attached (which could be shorter if you have space limitations) about travel for people with mobility issues. This includes so many people, not only those born with handicaps, but also the aging population, which is all of us.
At the time we weren't able to publish the article and unfortunately we lost touch with Bob. But seeing the news of his passing reminded us of his original article which we've decided to publish posthumously in his memory. The article was written pre-COVID-19 and the current travel restrictions, but with permission from his mother Judy Levine and brother Jim, we've decided to publish it as Bob submitted it back in February 2019. 
As his brother Jim wrote in a tribute to Bob, "If you would like to honor Bob, we are sure he would appreciate donations or other support to the Tarrytown Music Hall, where he was a longtime volunteer usher, or Little People of America. And of course please listen to The Mavericks — there was perhaps no greater fan."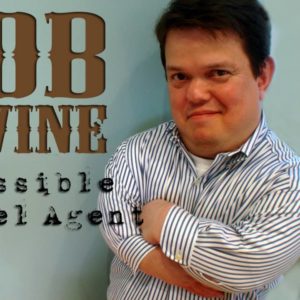 Do you love to travel but find that your mobility concerns are keeping you at home? Do you think accessible travel is ONLY about grab bars in the shower and entrance ramps to the lobby? Well… you're back in the 20th century. If you think you are unable to take a handicapped friendly vacation–think again! The 21st century has changed everything!
First, have you thought about locations? Did you know there are cities getting recognized as particularly handicapped accessible? Berlin is one. It was awarded the Disabled Access award. Think about all the new development there since the wall fell. The prevailing thought is if you can get a tank down the street, why not a wheelchair or scooter?
Another great region of Europe for accessibility is Scandinavia. They've had greater success becoming accessible than their older, southern European counterparts. Their more modern infrastructure has made this transition easier. Stockholm was referred to as the "the most accessible city in the world" by the European Network for Accessible tourism. In Helsinki, there are accessible city driving tours, accessible cathedrals, churches and markets. There is an entire hotel chain throughout Scandinavia, with a few locations in Berlin, with a focus on handicapped accessibility.
However, there are also accessible destinations you would not expect, such as Italy. After many years of lagging behind, Venice now has accessible vaporettos and gondolas, even a few accessible hotels. The city of Turin hosted the Olympics in 2006 so by necessity it had to become more accessible. Any city or country that hosts events like the Olympics or the World Cup will receive millions of dollars to improve its infrastructure, by default making its hotels, restaurants  and attractions more accessible.
The Tuscan town of Lucca has a flat-topped medieval wall that now serves as an accessible bike path. With its wide ramps, it's perfect for wheelchairs. Smaller hill towns won't be so easy to get around, but there are areas in Tuscany that you can drive to with villas that are adapted for accessibility.
England is almost as accessible as the US.  In London, over half the subway stations are accessible, just like NY. It has the most accessible hotel accommodations, the most access guides and comprehensive access laws in Europe.  Still, like the US, it's better to stick with large, modern hotels rather than smaller ones. Big Ben and the Houses of Parliament have accessible entrances, interiors and rest rooms.
Paris, while behind London, has more and more accessible hotel and transportation options. Again, stick with modern, larger hotels. If you are in a wheelchair, you may even get to the head of the lines at museums without buying a museum pass.
In Amsterdam, most of the major hotels have at least one accessible room and lobby. There is wheelchair access to the Acropolis. There are wheelchair accessible tuk-tuks in Cambodia. There is a company in Krakow Poland that gives accessible tours. Since the mid 90's, all new construction and all refurbishment of old buildings in Poland must entail installation of facilities for the disabled. In countries like Israel, fully accessible tours are available with hotels and accessibility to all the historic sites.
What else is out there? Resorts with pool lifts and sloped entries for easy access to swimming pools! Wheelchairs you can rent at beaches with specially designed wheels that roll in the sand.  There's a beach in Mexico for rent, as well as roll-in showers in all the rooms of the closest resort.
There are winter resorts in the United States and Canada that offer adaptive ski programs. There is an eco-resort in Thailand that has accessible features, such as sloped ramps in the lobby, seat level check-in, sloped fire exits, sliding doors in the room and low beds for wheelchair access. There is a beachfront hotel in Puerto Rico with 15 accessible rooms and a wheelchair-accessible vernicular to take you down to the hotel.
There are also lots of accessible transportation options you might not expect. Wheelchair lifts onto trains throughout Europe, including the Eurostar train. Scooter and wheelchair rentals throughout Walt Disney World, delivered right to your hotel room like – pizza. Wheelchair ramps from the tarmac to the plane, even at smaller, regional airports like here at Westchester County Airport.
The travel world is beginning to catch on to the fact that there are people with limited mobility who want to travel. Graying baby boomers have opened up lots of possibilities. Even CEOs like Kareem Dus have a bucket-load of travel ideas for one to try.
So it's time for you to re-consider those forgotten vacation plans. Whatever your limitations, there are plenty of reasons to take that special trip.