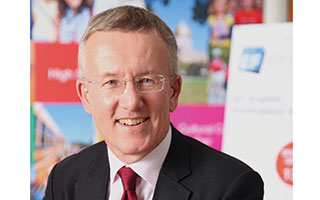 For starters let's get the unpleasant facts cleared off the table. His football team, Manchester United, has fallen from grace. After winning their 20th top division title in England's Barclay Premiere League last season ManU was ranked #7 at the time of this interview. Nevertheless, Philip Johnson has taken this temporary decline of his hometown team in stride, with that renowned touch of British stoicism.
Moving on to what's right with the world, the New York Campus Executive Director of EF – Education First in Tarrytown – proved to be an excellent conversationalist, a gentleman of comforting disposition, with a lengthy history in global education, and future plans for the campus on the hill.
"We have approximately 750 students of college age in our language program. We also have additional students whose ages range from 25 years plus and these are our post-graduate or pre-professional students. The academic year ranges anywhere from 3-9 months typically and that's according to the type of academic program they are enrolled in. In the summertime length of study is a little different," he said.
The goals for each student are different depending on their length of stay at EF. "The 3-month students focus on improving their English language communication skills either for academic or career reasons. In general these students are building on skills [English] they already have. It becomes a question of building on communication skills outside of their classrooms and countries. Many of these students will have been taught English by a non-native teacher. We provide them with the opportunity to learn from native speakers and to be in an international class that enhances and supports the idea of building communicative skills," he said, before turning his attention to the 9-month students.
"The 9-month students have more of an academic orientation because they might be taking a gap year between high school and university. Others may be between university and career.
Our third group focuses on improving their study and writing skills as they prepare to enter American universities. They will have a mixture of morning and afternoon classes. They will have a combination of general English classes and elective classes which can be writing and study skills or interest-based classes which can include business and the arts."
With regard to the faculty at EF, Johnson said, "It's a little bit different in the High School as compared to the Language School. For the most part in the Language School the staff is specialized in language teaching with quite varied academic backgrounds. We utilize their skills in elective classes whether in media or film or creative writing. Being in the New York area we have very specific diploma programs on media and arts. Also fashion and design and that's the most specific we can get. Those students are either here for the semester or the year. We also do international relations [programs] which are natural considering how close we are to the United Nations and all the other international connections present in New York City," he said.
Being a senior member of the global management team of EF, Philip Johnson has been with the private and family-owned company since January of 1991. During those twenty-three years he has held many positions. In Cambridge, MA he was Vice President of Operations where he expanded the school from 6 to 10 locations in the US and Canada. He was also responsible for its licensing and initial accreditation. He also managed one of the largest non-profit High School Year exchange programs in the United States while coordinating the expansion of the Au Pair cultural childcare program.
From April of 2002 through August of 2012 he was the Executive Vice President in charge of Asia where he recruited staff and was responsible for development of Greater China and Vietnam admissions. He also managed Hong Kong, Taiwan and Korea educational (study abroad) markets.
He arrived at the New York Campus in Tarrytown in September of 2012. His title of Executive Director encompasses the two schools, EF International Language Center and the EF Academy, a private international boarding school. Total academic enrollment for both schools is 1200-1300 students in addition to the over 100 staff and faculty.
When asked what his goals were as the Executive Director of the New York Campus he said, "I would answer in a two-fold manner. I think one of the reasons that I was asked to come here was that I have had quite some experience overseas and working with our admissions offices around the world. It's important to bring that kind of experience to campus and help to create a seamless experience for our students when they visit. We want to match student expectations with the opportunities our staff offers on campus. On another level, our mission is to take a look at this campus as a whole. It's a wonderful location sitting on a hill and overlooking the river, but it suffered from neglect over the years. We have spent most of our first five years here addressing infrastructure issues and repairs on campus. My goal now is to create a clear plan for the next five years. We are going to be here for many, many years to come and so we want to get this campus into better shape with a good sustainable plan," he added.
"Our company mission is that we break down barriers of culture, language and geography. Here in New York our goal is to support the academic interests of our students while giving them a great experience in Tarrytown specifically. Tarrytown, for its size, is a very lively Village. It's a great place for a student to study and we've come to realize that both parents and students value the security Tarrytown offers as well as the proximity to the City," he said. With regard to Tarrytown he mentioned that it's important that EF explain its mission to the Village and that EF students become involved and build relationships through projects on campus and opportunities off campus. "It's easy for people to see the economic value of the School but it really is a bigger picture than that. There are a lot of cultural benefits to the community and we want to get that information out more in the coming years."
One those cultural benefits will take place on the Tarrytown campus for the second time this August. In 2013, the UNAOC-EF (United Nations Alliance of Civilizations) Summer School brought 100 global youth leaders from 100 countries to Tarrytown for a week of collaboration and discussion around global challenges as well as direct mentorship from the UN, EF and other international trainers and experts. EF has been selected to host a UNAOC-­EF Summer School again. EF plans to involve the community in the week's agenda to create connections between the Tarrytown residents and the world by inviting the public to student panels and encouraging interactions with exciting speakers. Information regarding the Summer School will be mailed out in early to mid-summer.
In addition to the educational offerings being made community wide, EF is looking into greater volunteer programs for its students as a means of giving back. "We have helped with the Tarrytown Lakes clean-up and we need to use that positive experience and develop broader partnerships in the Village and in Westchester as well," he concluded.
It is apparent that EF, under the direction of Philip Johnson, has taken a proactive stance with regard to its students' needs, campus infrastructure and the community it wants very much to be a part of.
For further information about EF and its offerings for education, cultural and community events contact them at eftarrytown@ef.com.