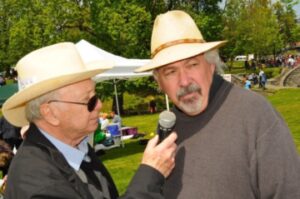 Bob Kimmel knows news. Perhaps best recognized locally as a co-founder of the Hudson Valley News Corporation, which launched the Hudson Independent in late 2005, his impressive career in the media stretches back decades and from the United States to Europe and beyond.  
A long-time Tarrytown resident – "I've lived here for 34 years. It's the longest I've lived anywhere" – Kimmel views Philadelphia as his hometown, and committed himself to the news business early, taking on the role of editor-in-chief at his high school. Attending Temple University, he became sports editor of Temple News as well as doing some radio newscasting in Philadelphia and Atlantic City while still an undergraduate. 
Drafted in 1955, and after basic training at Fort Jackson, South Carolina, he took up a role at American Forces Network and found himself working from a castle outside Frankfurt, Germany, broadcasting news and sports to the troops. On his release from the forces, he stayed on with AFN as its Paris correspondent during the late 1950s. "I was kept pretty busy," he said, "covering everything from hard news to features. France was at war in Algeria, de Gaulle was elected president, Winston Churchill was awarded the French medal of liberty. 
"And I had an arrangement with one of the airlines. Any time a movie star flew in, an interview would be set up. So, I met some fascinating people: Edward G. Robinson, Van Johnson, David Niven, Jane Russell. It was the perfect job."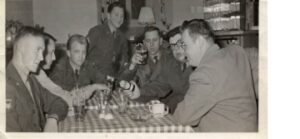 Returning to America in 1959, Kimmel found work at WCAU radio in Philadelphia, which had been bought by CBS. "I remember doing an interview with Jimmy Hoffa when the Teamsters were in conflict there. In fact, I did a report contradicting some of what he said – just doing my job." 
More and increasingly important roles followed – at ABC in New York, then assistant news director at WINS Radio, and eventually eight years with NBC, as director of network radio news. "One of the big perks there," he revealed, "was going on presidential trips, on the press plane accompanying Air Force One. I was able to travel with Richard Nixon and Gerald Ford, to places like Moscow, Pakistan, Indonesia and the Philippines, managing the coverage."  
A stint in public relations, at Hill and Knowlton, followed, teaching corporations, government employees, even astronauts how to handle the broadcast press. Then Kimmel set up his own company, before retiring toward the end of the 1990s and then spending three years making a documentary about Raoul Wallenberg, the Swedish diplomat who helped save thousands of Jews in Hungary during World War II and who disappeared behind Soviet lines. 
It was in late 2005 that Kimmel and four others felt the need for "another local opportunity to keep a balance in the news provided to Tarrytown and Sleepy Hollow." This was in response to the more blatant political bias being shown by the River Journal at that time, under its founder and then owner Robert Bonvento. So the Hudson Independent was born, publishing its first issue in February 2006, supported by 58 shareholders and a powerful boost of public opinion. It stayed in print for 14 years, going online-only in March 2020. 
Meanwhile Kimmel served as president of the corporation and chair of the editorial board for a decade. Now a non-profit, the Hudson Valley News Foundation still enjoys his participation, as vice president under Irvington resident Chairman Walter Montgomery. 
When asked what were the highlights of his long and notable contribution to journalism, the always diplomatic Kimmel answers: "First was the opportunity to meet a number of significant people, mostly positive, some negative, including Presidents Nixon, Ford and Johnson, Mohammed Ali and Bobby Kennedy; to learn from them as well; and to inform the public on vital subjects, on what exactly was going on with government and elsewhere. 
"And second, it's important for local people to be informed about what local government is doing. Unfortunately many local papers have folded for one reason or another. That's where the Hudson Independent came in, helping maintain awareness of local government and its operations." 
It's a proud tradition, and one that the current River Journal itself maintains, following in the footsteps of steadfast journalists like Robert Kimmel who gave the media a lifetime of service, for the right reasons.