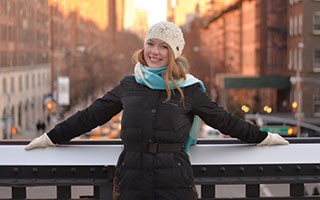 Siberia. Where is that? I think it's the coldest place in the world where people live. I heard there are big bears everywhere and people drink vodka all day and play balalaika for something to do.  My name is Evgeniya and these are the comments I hear whenever I say I am from Siberia. Actually Siberia is the biggest region in Russia and my home is also a big city called Omsk. Omsk is an old city with rich history and was actually the capital of the country for a short while. Fedor Dostoyevsky was exiled there and began his novel The House of the Dead.
Omsk has a population of over one million people and is home to beautiful architecture and vibrant opportunities for all ages. It is also situated on Trans-Siberian railway which is a dream for many, to travel on. One can begin their trip in Moscow traveling east across Siberia to Vladivostok and then on to Beijing.
I want to dispel the myth that it is always winter in Russia. We have warm and hot weather in the summer ranging from 68-95° F. When winter does arrive the temperatures, however, can fall from 14 to minus 31F. To say our temperatures can be extreme is true and with the seasonal change we also experience a fall of beautiful colors and shades. Since arriving in the USA eleven months ago I would say that Omsk has a more vibrant fall than what I've experienced here.
I arrived at EF in Tarrytown on Saint Patrick's Day 2014. I came as an AIESEC participant (Association internationale des étudiants en sciences économiques et commerciales or in English the International Association of Students in Economic and Commercial Sciences).  For the past year I have worked as a Project Manager at EF. I played a safe game of "Russian roulette" when I applied for placement at EF. I didn't know what my position would be, didn't know where in the world I would end up. When I was asked for my preference, I of course answered "Europe" as I couldn't think of anywhere else to go. When I was told "EF New York" I frankly was in a panic. The USA is an English-speaking country, with many American accents, and very  far away from home. It wasn't my first experience of moving to another city, but it was the first time I'd traveled this far. Imagine: about 6000 miles, 10 time zones. When it is night here, it is morning there. Well, thinking positively: I celebrated New Year's Eve several times – at 1 pm in New York it was midnight in Omsk. I celebrated later that day when it was New Year's in Moscow and finally I ended up celebrating the arrival of the New Year in New York City. That's not a bad way to bring in the New Year.
I can't say that the reality of America was extremely different from my perception while living in Russia.  I had gotten to know about life in the USA through movies. In the beginning of my internship I was charmed to walk in Central Park by myself, see the Statue of Liberty so close, and have a bird's-eye view from the Empire State Building. However some experiences I could not depict while in my country. There were cute houses, different churches, small stores, cozy cafés and some wild places around. I remember my first introduction to Tarrytown and Sleepy Hollow. I was so surprised that people were open, polite and very helpful. For me coming from quite a reserved culture it was almost shocking when people came up to me and offered help, when they saw that I didn't know whether to go left or right. One bus driver actually let me ride for free because I didn't know you needed coins and not bills when you traveled. The owners of local cafés knew your name and your story in a short time and I felt an  attachment to Tarrytown very quickly.
New York City was a different situation altogether. Times Square was noisy, food trucks on the street had many different smells, I saw rats in the subway, people rushed everywhere and the  skyscrapers made me feel miniature. I struggled with New York for a long time and not until summer did I finally fall in love with the Big Apple. I realized you just had to accept it for what it is, a huge city with diverse nationalities, cultures and ethnicities. I was surprised and shocked that people spoke to me on the street, some sounding nice, others offensive and strange. People who want your phone number after just meeting them. People attracted to your accent and wanting to know everything about your life.  I found headphones were a great solution to those problems.
One of the great things about New York's diversity is the opportunity to get to know to various cuisines. Personally I love Mexican food. I also learned to dance the merengue, bachata and salsa. I have studied the basics of the Spanish language, and become a Yankee fan after going to the stadium and learning the rules of the game as it went on.
It seems wherever I travel to I make a "must do" list, and for me that list  contains places I want to visit and the things I want to do when I visit. Traveling is compelling  for those of us who want to fill cultural gaps with new learning through meeting different people and experiencing something unusual.  Of course, in each of us lives a traveler's spirit. I knew that life in the US is so distinct from east to west, from north to south, that's why I planned to travel to Boston, Philadelphia, Miami, Washington DC, San Francisco, Los Angeles, Las Vegas, Grand Canyon, Chicago and Hawaii.  My mission is almost accomplished, except for the last two places. I have been lucky in my travels and have acquired unforgettable memories and friends.
I have about 6 more months to go before my Visa expires. After being here a year I have reflected on my experience. Knowing I may not be able to stay longer I begin to think about where I do belong. Maybe I will stay for another year or maybe I will be spontaneous and take an opportunity that takes me in another direction. Regardless I am  100% convinced that I want to continue discovering the world, its people and myself with EF (Education First)!