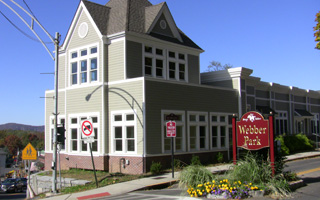 A little publicized event with big potential consequences for traffic safety and neighborhood integrity transpired at a recent Sleepy Hollow Planning Board meeting. The Open Door Family Medical Center intends to close its doors at 80 Beekman Avenue and move into its recently purchased One New Broadway building (formerly Peter Grotto Plumbing).
According to Arconics, an architectural and facility planning firm from Rye Brook, NY,  "Open Door has operated in the heart of Sleepy Hollow since 1986 with 10,000 square feet of leased space [5,000 of which is useable]….and is the only provider in Sleepy Hollow and Tarrytown and nearby communities offering a sliding fee scale for low-income patients. Sleepy Hollow has a large group of residents from the Dominican Republic and Ecuador residing in aging rental housing. The current practice provides primary medical care to approximately 3,000 unduplicated users with over 10,000 visits per year…"
A total of 40 Open Door staff members provide administrative and medical care at the Beekman Avenue location. The site also offers the WIC (Women, Infants and Children) program which is federally-funded and provides nutritional counseling and checks for buying healthy supplemental foods. WIC recipients are pregnant women and children from birth to 5 years of age.
Open Door's proposed move into the newly purchased One New Broadway building will increase its space to 14,073 square feet [from the current 5,000] but also "expand primary medical care capacity serving low-income, vulnerable people in Sleepy Hollow" while developing an approved residency program for 18 family medicine residents with Phelps Memorial Hospital Center and New York Medical College.
One New Broadway (formerly called 300 North Broadway) is a C-1 Highway Commercial Zone and within that zone are medical offices along Broadway to the north and south of it. The buildings with medical offices have parking lots in addition to long and adequate sight lines for motorists. Arconics, representing the Open Door, made its case to Sleepy Hollow's Planning Board that "personal services" are a permitted use within the C-1 zone.
There is, however, a fly in the proverbial ointment and that is taken from a November 20, 2008 Planning Board Resolution with regards to the 300 North Broadway location [formerly owned by the Grotto Holding Corporation  and better known as Peter Grotto Plumbing]. Grotto sought "site plan approval to permit changes of use for the conversion and redevelopment of the former Tappan Motors site at 300 North Broadway into an office building."
The Planning Board specifically stated in that resolution that "tenancy shall be restricted to professional service or office uses, excluding medical or dental offices." In addition the Board went on to state that "approval shall not be transferable to a subsequent owner/purchaser unless said owner/purchaser agrees to the same conditions spelled out and does not change the use or occupancy of the premises."
It appears that administrators and representatives of the Open Door Family Medical Center may not have read the 2008 Planning Board Resolution which was available at Sleepy Hollow's Village Hall or were unaware of the restrictions placed on 300 North Broadway that prohibit  medical or dental office use, when they purchased the building from the Grotto Holding Corporation.
According to Arconics the Open Door Family Medical Center has "6,253 patients on record utilizing the facility and that 2657 patients (or 42%) live within one mile of the proposed facility at One New Broadway." They go on to state that "the vast majority of patients will either walk or take a cab or bus to the proposed facility." Arconics has requested a variance for the 31 additional parking spaces Open Door will need at the lower level of the building where only 9 spaces currently exist. An additional variance will be required for the "elimination of the 5-foot-wide buffer" on the lower level due to a proposed "highly visible main access to the building to assist in way-finding from the vehicular drop off area on Broadway."  A 400-square foot addition to the building will house "a monumental stair element and patient gathering area outside of current building footprint."
On the second level of the building which abuts New Broadway there will also be pedestrian access, and Arconics goes on to say that New Broadway has public on-street parking [for Open Door patients and staff].
Traffic density, pedestrian safety, neighborhood integrity and sound planning decisions all come into play with the proposed move of the Open Door Family Medical Center to One New Broadway.
Were it a black-and-white world then the current Village resolution adopted November 20, 2008 would disallow Open Door from making the move based on the prohibition of medical or dental office use at that location. It remains to be seen what shades of gray, if any, diminish the clarity of that resolution.©