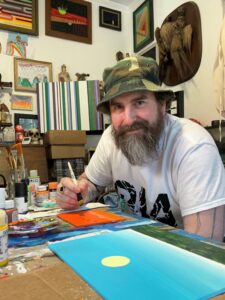 Martin Munroe's roots run deep into the soil of Sleepy Hollow, or North Tarrytown as it was called when he grew up there. Both sets of his grandparents arrived in the 1940s, and his parents continue to live there today.  
Born at Phelps Hospital in 1977, Munroe has fond childhood memories of the diversity of people and terrain locally. He loved all of it – the river, skateboarding around the streets, exploring the woods of the Rockefeller Preserve. "When I was growing up, it was very much a General Motors town, very blue collar, a six-pack/ Italian-hero-at-the-deli kind of place." But he welcomes the changes taking place now. "The whole scene seems to have gotten younger, not necessarily age-wise. Now it's vegan-friendly, fairly-sourced coffee. There's more cultural opportunity. There's lots of room in the community for a widening experience of life." 
As an artist, community is important to Munroe, as are place, and in particular our river, the Hudson. "People connect with the river. It's always been there in my life, but now, if I see a heron, or a sailboat, or the sun sparkling on the water, it gives me more than an optical or visual stimulus. It's almost a nod and a wink from the universe." 
His outlook wasn't always so positive. As a teenager, his chosen creative expression was music. At 19, after a semester at Westchester Community College, he left for the vibrant music scene of San Francisco's bay area and started a band. "We played gigs, did some national tours, made a couple of records for indie labels. And we played at CBGB." But then the live fast/die young mindset came to an end.  
"I left California for Brooklyn in 2007. The band was done, I had split from my girlfriend of five years, been fired from my job at a bar. And my addiction was becoming unmanageable. By 36 my options, I feared, were jails, institutions, or death. I needed to go somewhere safe." So he moved back to his parents' home, joined a recovery program, and started to explore his other creative self, painting. 

"It turned into a part-time thing in 2014, when I got clean. I'd been drawing my whole life, so I got a couple of canvasses, started fleshing out ideas I'd had over the years, gave it a shot, started going, and haven't stopped."  
Previously, he admits, he might have been too scared to try. "But I'm not scared now. In a very positive and polite way, I care a lot less what people think about me nowadays. My life was dictated and very much confined by my use. Now I've replaced that with a spiritual life where I don't control everything but can be sincere and open. The results are not up to me. I can trust in that."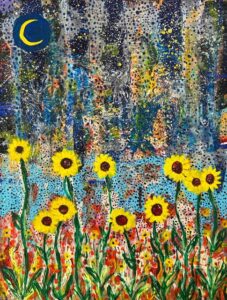 For three years now, Munroe has been supporting himself by painting. The work features bright colors and bold imagery. "It's louder than it's quiet," he says. It's also diverse, sometimes spiritual, often symbolic. Currently he's in a landscape phase, painting night views of the Hudson, while working on pieces for an October show at the Mount Kisco Curio Room, on the theme of night and day. There will also be a solo show at the Warner Library from October to December, and his work will be available at the Sleepy Hollow Street Fair on Oct. 14. 
"I want to stay open to a sense of wonder, to learn and improve my craft. I don't know what will come next. But what's the worst that can happen? That I don't like the painting I've just finished?" He smiles. He's in a good place.