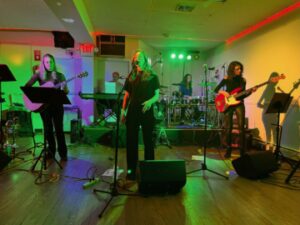 The stately enclave of Philipse Manor may seem like an unlikely locale to give birth to a rock'n'roll group. 
Don't tell that to the five women in the Mom Band, a five-piece outfit covering songs by their favorite female artists. 
These Sleepy Hollow neighbors — singer Sarah Bills, guitarist Alison Hillhouse, Alexia Christina on bass, drummer Nisha Raghavan and Anne Wilson on keyboards — live just five blocks apart. 
They've formed a bond with each other and with other neighborhood moms who come to their gigs to sing along to What's Up? by 4 Non Blondes and tunes by Alanis Morissette and Amy Winehouse. 
"The kind of unique bond you have with these women playing together is pretty special," Hillhouse said recently. "It just is like friendship with this other purpose and this kind of mission together that is so unique, and I haven't experienced that in life." 
If you haven't caught their act at the Philipse Manor Beach Club or on Youtube or Instagram, the Mom Band will be taking the stage from 1-2 p.m. Saturday, June 3, at Horan's Landing as part of the RiverArts Music Tour. 
All-mom rock bands have been a thing for some time, with groups like Housewives on Prozac and more recently the Lazy Susans gaining national followings. Mom Band founder Hillhouse was unaware of the genre. 
"When I started this, I just kind of liked the idea of getting a collab of moms together to do it," Hillhouse said. "I didn't know of all these mom bands that existed." 
The five women range in age from 38-46, have a collective 12 kids ages 2-14, and work in the media business or in law.  
Band members gather on Wednesday nights in Raghavan's basement to practice. The musicians, with varying degrees of experience, are beginning to craft some original songs, Hillhouse said. 
"We're thinking about women our age, and maybe that voice hasn't been shared as much in music, or that voice is not as common in rock music," she said. 
But there's more going on during these sessions than music. 
They talk about the challenges of balancing a career with parenting, and in Wilson's case, the unexpected death of her husband followed by a breast cancer diagnosis. Her bandmates have been a source of support during a year of chemo and radiation treatments. 
The music and camaraderie provide "a respite from our crazy lives," Hillhouse said. 
"I think it's kind of changed all of our lives in a way," she said. "Being a mom and having a job is hard work and parenting is really tough and just having this outlet has been so cathartic for all of us."