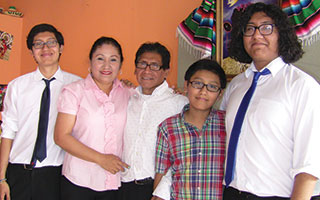 For restaurant owner Pablo Ilagorre, Que Chula Es Puebla (How Beautiful Is Puebla) is a family affair and patrons can attest to the colorful, upbeat colors of tablecloths and cheerful paintings and Mexican memorabilia on the walls. Mr. Ilagorre is celebrating the restaurant's 7th Anniversary, and as always, with wonderfully and freshly prepared authentic Mexican dishes.
At right, Ilagorre family, owners of Que Chula Es Puebla Restaurant.
His wife and sons work alongside him creating a warm and welcoming experience for those seeking great Mexican food accompanied by very reasonable prices. Located at 180 Valley Street in Sleepy Hollow, Que Chula Es Puebla is celebrating the summer with Margarita specials, family offers, and their annual Chiles en Nogada menu starting in August. Call 914-332-0072.