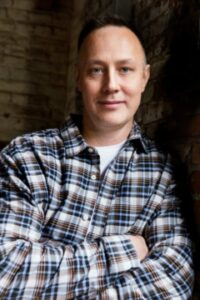 The Village of Sleepy Hollow's first new mayor in 14 years takes office in April with plans to focus on diversifying the downtown economy and bringing residents closer to their government. 
Martin Rutyna, a 45-year-old political newcomer, ran on the Transparent and Accountable Government line, ousting longtime Mayor Ken Wray in the March 15 elections. 
The two-year mayor's position carries an annual salary of $15,000, and Rutyna said he plans to donate everything after taxes for scholarships earmarked for Sleepy Hollow High School graduates. 
Rutyna works remotely as executive director of marketing for an automotive consulting company based in Michigan, where he's from originally. He serves as captain of the village's volunteer Fire Department. He and his wife, Shanna Beairsto, moved to Sleepy Hollow in 2017. 
Although he ran on a different party line than the village's six-member Board of Trustees — including recently re-elected Trustees Tom Andruss, Jared Rodriguez and Deputy Mayor Denise L. Scaglione — Rutyna said he sees no problem working together with the Unite Sleepy Hollow Party. "I think they bring a large amount of experience, a large amount of knowledge, a large amount of relations in the village," he told River Journal.  
Rutyna added: "The good thing about Sleepy Hollow is we're not really party based. We use it as a mechanism for election … and we all agree about what needs to be done to make Sleepy Hollow a better place. It's my job to empower them to do as much as they can. We'll work together. We may disagree at times but it's just on how to get the right things done." 
He named diversifying the village's economy as a top priority. "Bringing in more commercial to Beekman Avenue," he said. "We've had empty lots and vacant storefronts for a long time on our downtown drag, and it's time for that to be focused upon and for that to be filled in. That's going to bring some big advantages of taxable value and start trying to reduce taxes." 
The newly awarded $4.5 million state grant provides an opportunity to invest in the village's downtown, and Rutyna wants to make sure community members have a chance to provide input about how the money is spent.

"I want to spend it all in our inner village," he said. "I think that's what it was designed for, I think that's what we won it for. To make sure our inner village is a more cohesive inner village." 
The possibility of the W.L. Morse School moving from its Pocantico Street location could create an opportunity for the village to acquire downtown property for invisible parking, and to "make sure that building is used in a way that it's cohesive to our downtown plan," he said. 
As his party affiliation suggests, Rutyna said he'll be doing plenty of listening to residents' concerns.  
"I think a lot of what we've been doing is to bring more transparency, let people understand what we're doing, make it easier and simpler for our residents to know what's going on and make their opinions known," he said. "We'll listen to those opinions, we'll respond, and do our best to do what's best for the village together as a Board of Trustees and mayor."