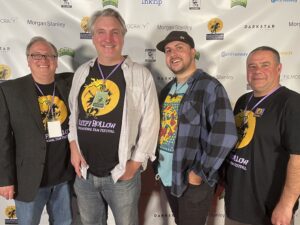 Matt Verboys and Dale Cunningham are two lifelong friends who grew up together in Somers, New York, seeing movies like "Phantasm II" at the Jefferson Valley Mall and working at a local video rental shop. Today, inspired by their love of genre film, they are co-directors of the Sleepy Hollow International Film Festival, along with colleague Michael McCartney.
This October, after taking a year off due to Covid, the SHIFF returned in drive-in form. Approximately 65 carloads of fans flocked to Sleepy Hollow's Kingsland Point Park for opening night of the Festival and were treated to a drive-in double feature and a range of local food trucks.
"It's something we can do that at least keeps some of the flavor, and maybe opens us up to different possibilities in the future," said Verboys. "We're just excited to give it a shot.
Beginning in 2019, the Festival has featured special guests such as songwriter and actor Paul Williams (Phantom of the Paradise), producer Edward Pressman (The Crow, American Psycho), and composer Harry Manfredini (Friday the 13th). In 2019, the festival featured a performance of "Nevermore", a one-man show about the life of Edgar Allen Poe performed by cult actor Jeffrey Combs (Re-Animator, From Beyond).
According to Cunningham it was the beauty of the Tarrytown Music Hall, the SHIFF's traditional home, that convinced Combs to take his long-running show to the area.
"He was blown away," he says. "The building has a spirit in itself, and he could see how it was perfect for what he was trying to do."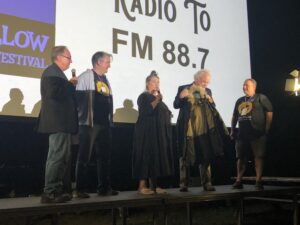 This year's festivities kicked off with the presentation of the 2021 Horseman Award to Sleepy Hollow resident Lynn Moffat. The award was a tribute to her late father Donald, who starred in Popeye, Clear and Present Danger, and the night's first feature, 1982's The Thing. Moffat, appearing onstage alongside Sleepy Hollow Mayor Ken Wray, showed off the coat her father wore in the film.
One of the main goals of the SHIFF is to showcase the work of independent genre filmmakers. This year it included 13 feature films and 21 short films, many produced locally. Three shorts from the "Local Legends" series were screened between the two features on opening night – Thom Hilton's Synonymous With, Katie Graubart's Medusa, and Jeff Frumess' Dav/ID.
Frumess, writer, director, and star of Dav/ID, took to the stage to introduce his film and give some advice to aspiring filmmakers.
"You don't have to live in New York or LA to make a movie," said Frumess, a White Plains resident. "You can do it right in your backyard."
All of the submitted films were available to view virtually, and honors were given to Harinarayan Rajeev's Sawa for Best Short Film and Teddy Grennan's Wicked Games for Best Picture.
The second feature film of the night, 1986's Chopping Mall, was introduced by the film's co-writer and second unit director Steve Mitchell, who told behind-the-scenes stories about the making of the cult horror comedy.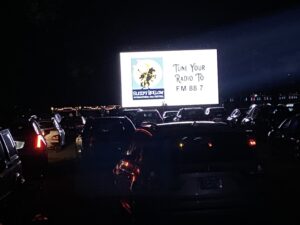 Although Saturday night's festivities were rained out, a revised Sunday lineup featured 1987's The Monster Squad, a 40th anniversary presentation of An American Werewolf in London, and director Jeff Lieberman introducing his 2004 film Satan's Little Helper.
Looking to the future, the SHFF team hopes to build on the success of their "horseless carriage cinema" experiment at the picturesque riverside park.
"This is an interesting hybrid, and we're already thinking we'd like to incorporate what we're doing here as we move ahead," said Verboys. "We know that the place is right, and the Fest is a solid idea that will continue to attract folks."