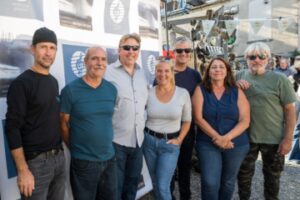 Anthony Giaccio has been writing songs since he was a teenager in the 1970s. He only recently began releasing his music to the public.  A launch party for his second album, Down This Highway will be taking place at JP Doyle's in Sleepy Hollow on July 22 at 8:00pm. 
Serving for 20 years as the Village Administrator of Sleepy Hollow, it is not surprising that he is directing proceeds from his launch party to support The Horseman PTA Community Wardrobe, which provides clothes for families in need.  
"Music is simply a way to express myself," Giaccio said after a recent concert at Horan's Landing.  Giaccio played in cover bands for quite some time, but only recently started to play his own original music at open mics. 
The title of his newest release, Down This Highway is more than just a metaphor. In fact, he actually started writing the song while driving. "In life, there are twists and turns and sometimes you get where you're going and sometimes you don't. Either way, do what you can to enjoy the ride," Giaccio tells us through his lyrics.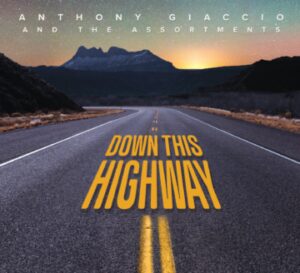 Giaccio does not tend to classify his music into a genre, not out of fear of being labeled, but because he does not want to limit himself. He wants to keep experimenting with different genres, wanting each of his releases to sound different. "I have different influences, mainly in the Classic Rock genre like Springsteen, the Eagles and the Stones. Current bands I listen to are Green Day and The Killers."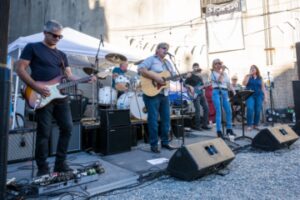 When writing the lyrics to his songs, Giaccio plans what the song is going to be about, and then writes both the music and lyrics at the same time. The lyrics that he writes aren't always written about a certain time in his life, but each album is a collage of different experiences and times. 
Giaccio hopes that his listeners relate to and connect emotionally with his music. He also hopes that his late-blooming career story inspires people to realize "It is never too late to follow your dreams."  
The launch party for Down this Highway is being held on July 22 at 8:00pm at JP Doyle's, 48 Beekman Avenue in Sleepy Hollow. If you are not able to attend, but would like to support the work of The Horseman PTA Community Wardrobe, visit horsemenpta.com/community-wardrobe/ 
Community Wardrobe is a joint effort of the Horsemen PTA and the Village of Sleepy Hollow that finds new homes for good clothes free to local families who need them, in a dignified, store-like setting. Clients come to their 222 North Washington Street location to choose clothes and shoes for their families. 
Anthony Giaccio's music is available on all streaming platforms.