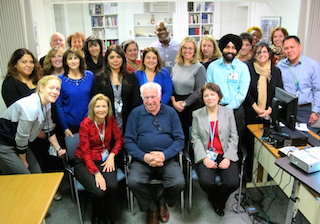 In September 2015, my husband, David Kornreich, and I arrived at the oncologist's office for what was to be the beginning of his chemotherapy treatments. David asked the doctor, "Given my current condition, what are the chances that chemo would be successful?" She said, "About twenty percent." We looked at each other and agreed that those were lousy odds. He declined the therapy, knowing full well what that meant and decided to live peacefully without the side effects of chemo and would later go on to look for an In Home Hospice Care service for assistance with his needs that he can't do by himself anymore.
Photo: Pamela Lipperman, Assistant Director, Bruce Heckman, MD, Medical Director, and Sharon  Haskins, Nurse Manager, seated, with members of the Phelps Hospice team.
David was already weakened from surgery and radiation, so I couldn't help but feel a huge sense of relief that he wouldn't have to suffer through chemotherapy.  All he said was, "Now we can get on with the dying." From the doctor's office, we went directly to the Phelps Hospice office, at the James House on Phelps Hospital's campus, to enlist their support.
Hospice nurses and social workers came to our house several days later to orient us to "being on hospice." They made one thing very clear – we were to call hospice first, no matter what the problem or the need or the hour.  Things started happening like magic.  A hospital bed was installed upstairs, oxygen tanks appeared in the front hall, nurses came every other day or more, health aides provided loving personal care, and medications and nursing supplies were delivered to our door.
I couldn't have known the untold number of ways that Phelps Hospice would support us, dealing openly and honestly with the situation we were facing.  From the first day, they were always there for us, at every hour of the day or night, providing comfort, care, support and helpful information as we took this last journey together.
David's openness about the fact that he didn't have long to live was a great gift to me, to our children and to our friends. It allowed us to be honest with him, to have real conversations with him and to let him know how much he meant to us. And because hospice lifted the burden and the stress of coordinating David's care off my shoulders, we were able to relax in those last few weeks and just be together, with precious visits from friends and family that meant a lot to both of us.
One of the great strengths of Phelps Hospice is the way in which they help meet the needs of the entire family. We were visited by the hospice chaplain and the social worker, as well as being offered massage, Reiki and counseling.
Because members of the hospice team were so experienced and knowledgeable about the process of dying, they could help us understand what was happening and what we should anticipate.  They made it possible for David to have a good, peaceful death in the comfort and ease of our home, and for this I will always be grateful.
After David died, I was surprised to learn that the hospice experience doesn't quit. Various staff members called to see how I was doing, and I received numerous mailings about coping with grief. Hospice organized a bereavement support group for people who had recently lost spouses, which I found very helpful.  Last week, I spoke at the Hospice Tree of Lights Ceremony, where I joined hundreds of families as we remembered our departed loved ones.
I encourage people who are facing an end-of-life situation in their family to get in touch with hospice as early as possible.  Believe me, it will be more than you could ever have imagined.
The Phelps Hospice program has been providing end-of-life care in Westchester since 1983, mostly in patients' homes. Hospice care is for anyone who has been diagnosed by a physician as having six months or less to live. Care ranges from pain and symptom management and emotional support to assistance with advance directives and final arrangements.  The Hospice team includes physicians, nurses, home health aides,
nutrition counselors, social workers, complementary caregivers and volunteers. Chaplain visits provide spiritual support and pre-bereavement support helps families cope with their pending loss. On-call RN nursing services are available 24/7. Hospice care is covered by Medicare, Medicaid and most private insurance plans, but services at Phelps are never denied for financial reasons.  To learn more, go to www.phelpshospital.org or call 914-366-3325.