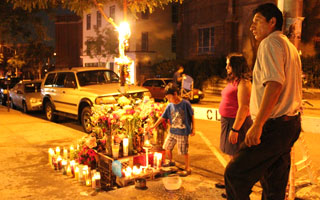 It was on July 22nd that Felix Sansaguay came down, early in the morning, from his third floor apartment on Cortlandt Street and saw the Virgin Mary appear to him in front of the locust tree, across the street from the defunct Holy Cross church.
Word spread and by that night an estimated three hundred people had gathered around the tree, bearing flowers and candles. For many days following Sansaguay's vision, hundreds of people visited the site, praying, playing music, and taking pictures. The image in the bark even adopted a political significance for some, when parishoners from St. Teresa of Avila, located on Beekman, visited the shrine. Earlier that month Father Gilberto Angel-Neri, a priest beloved by the community, had been transferred from St. Teresa's to a parish in the Bronx. Frustrated by Father Angel's sudden disappearance, some church members had been staging peaceful protests, both locally and in New York City, outside of St. Patrick's Cathedral. It was in the middle of the controversy that Felix Sansaguay made his discovery.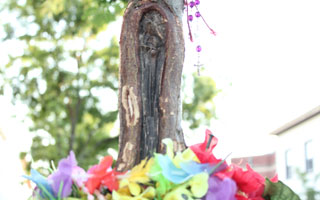 "Some people believe it's a sign that they should bring [Father Angel] back," says Miguel Polanco, a clerk at Patrick Groceries, located next to the shrine. "I don't know about that." Polanco does believe however, that Sansaguay's vision was an act of divine intervention. "I really believe it's a miracle because it looks so real. I really think it's a sign for people to have more faith in God."
Polanco is not the only believer in the largely Catholic community. Sunny Soncharoen, co-owner of Tyrynda Thai Restaurant,  was eager to draw a connection between the sighting of the Virgin on Cortlandt Street and the reported sighting in West New York, New Jersey, which also ocurred in mid-July. "It's the same image here as in New Jersey, just smaller," he says.
Church representatives, on the other hand, are more hesitant to call the Sansaguay's vision a true miracle. "The church is shy to call something a miracle before there's been an investigation," says Sister Mary Clare Bernet, who has been serving the parish of St. Teresa of Avila for thirty years this October. She did, however, express satisfaction with the supposed apparition's positive affect on the community. "The people are praying," she said, "and to me that's  a good thing…if the Blessed Mother did come here, maybe it was to bring the people back to God."
Now, in late August, the crowds have died down.  It seemed, as I observed the shrine from across the street, that the religious fervor of mid-July has been replaced by a calmer reverence and respect for the site. A small family paused to say a prayer and went on their way. As they left the little boy said, very matter-of-factly, "Yea, it looks like her."  One woman stopped, even more briefly, to replace a bouquet of flowers that had fallen on its side.  "People used to come and pray every single night," says Polanco. "Now it's dropping off. Now you see six, seven people daily."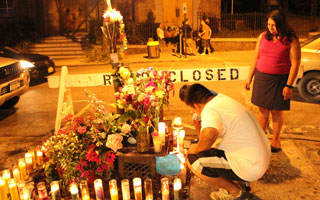 The "drop-off" that Polanco describes raises an interesting question: What is the proper shelf-life of a greeting card from the Blessed Mother? Certainly longer than a birthday card from CVS. But how much time will pass before the image of the Virgin  fades away and becomes just another knot in the wood? There is at least one person whose devotion to the site has remained consistent.  Felix Sansaguay still visits the tree every night to clean up and replace the extinguished candles.