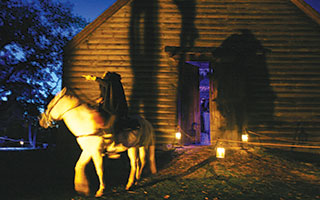 Sleepy Hollow Country's biggest Halloween events are celebrating special occasions this year, as The Great Jack O'Lantern Blaze® marks its 10th anniversary and Horseman's Hollow its fifth. The fun kicks off on Saturday, Oct. 4, opening night of the tri-state area's largest Halloween-inspired celebrations.
At right, Horseman's Hollow photo by Tom Nycz
Continuing for 25 selected evenings through Nov. 9, The Great Jack O' Lantern Blaze® at Van Cortlandt Manor in nearby Croton-on-Hudson is the Hudson Valley's biggest all-ages Halloween extravaganza. A small team of artists comes together to carve more than 5,000 jacks, many fused together in elaborate constructions such as life-size dinosaurs and eight-foot-tall working jack-o'lanterns-in-the-box, all lit up throughout the historic site's wooded walkways, orchards, and gardens.
Elaborate single-pumpkin carvings and huge multi-jack- o'lantern constructions line the historic landscape. Favorite themes such as the Undersea Aquarium and Skeleton Emergence are joined this year by new installations including a life-size Headless Horseman and a huge pumpkin cake!
Washington Irving's macabre tale, "The Legend of Sleepy Hollow," inspires Horseman's Hollow, a 13-night interactive haunted attraction at Philipsburg Manor in Sleepy Hollow, recommended for ages 10 and up. Stocked with professional actors and state-of-the-art special effects, Horseman's Hollow has a high fear factor. Selected nights from Oct. 4 to Nov. 1.
Haunted house professional Lance Hallowell leads a crew of award-winning makeup and costume designers and a 40-member-strong cast of experienced actors to create an immersive, interactive, pleasantly terrifying experience, with state-of-the-spooky-art
special effects.
Irving's "Legend," recommended for ages 10 and up, brings the master storyteller Jonathan Kruk into the historic, candlelit interior of Sleepy Hollow's circa-1685 Old Dutch Church, where for 13 evenings he offers a dramatic re-telling of "The Legend of Sleepy Hollow" accompanied by live organ music. Selected nights from Oct. 4 to Nov. 1.
The Legend behind the "Legend" is a daytime experience at Washington Irving's Sunnyside in Tarrytown that highlights the author of the famous story. Tours of Irving's home – a colorful blend of architectural styles – will showcase numerous objects related to Irving's famous story. Visitors can also enjoy a shadow puppet performance of "The Legend of Sleepy Hollow" and experience one of Irving's spooky tales on a walk through the woods.
Historic Hudson Valley produces these events and all proceeds support the Tarrytown-based private, non-profit educational organization. These events sell out in advance! Tickets can be purchased online at www.hudsonvalley.org or by calling 914-366-6900. ©