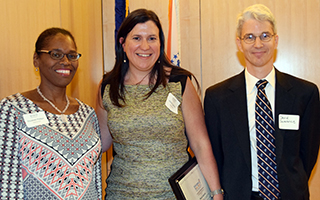 Sleepy Hollow Resident Marya Ugolnik Recipient of Westchester County Association's Young Professional Scholarship.
On Tuesday, June 24, 2014, 20 new graduates of Volunteer New York!'s signature program, Leadership Westchester, were celebrated in an induction ceremony held at the Gateway Center at Westchester Community College.
At right, Marya Ugolnik, Elizabeth Philips, David Severance
The 2014 alumna of year, Potoula Gjidija, was honored with an award for her many years of professional leadership as manager of community relations at Regeneron and, previously at the American Heart Association, and as well through volunteer work as a board member for Yonkers Partners in Education, board member for the YWCA of White Plains and Central Westchester, Board member for the Westchester Putnam Workforce Investment Board, Steering Committee Member of Rising Stars, and more.
The 2014 graduates included Donna Besteiro (Center for the Homeless of Peekskill, Inc.), Elaina Dionisopoulos (M&T Bank), Susan Edwards (Westchester Community Foundation), Melinda Herman (City School District of New Rochelle), Jonathan Hotz (Bunge Limited), Neal Keller (Hudson Link for Higher Education in Prison), Cindy Lopane of Mamaroneck (March of Dimes), Rick Magder (Groundwork Hudson Valley), Carolyn Malile (Reader's Digest Foundation), Melinda McFadden (Cardinal McCloskey Community Services), Janine Napierkowski (Ripley's Believe It or Not! Time Square), Christian Philemon (Youth Shelter Program of Westchester), Jared Rice (Rice and Rice Attorneys at Law), Claire Satenberg (United Way of Westchester and Putnam), Geoff Schmits (Volunteer New York!), Nicole Sheindlin (Her Honor Mentoring), Heidi Siesfeld (Wave Hill), Amy Siniscalchi (My Sister's Place), Ellen Sonet (Healthcare Marketing & Communications Consultant),  and Marya Ugolnik of Sleepy Hollow (Concorde Executive Search and recipient of the Westchester County Association's Young Professionals Scholarship for Leadership Westchester).
One graduate, Susan Edwards of the Westchester Community Foundation, recently described the experience: "Leadership Westchester's entire approach is that there is an alternative to leading from the top down. That alternative is leading from the inside out. That's what true leadership is all about. It's about recognizing that your leadership is in service to others. It's about creating the space in your life to cultivate self-awareness and compassion, and leading with authenticity in a way that inspires others. Doing this, we can transform our own lives, our organizations, our communities – and the world . . . It truly helps if we can see the bigger perspective so we can create better results . . . This is the path of leadership excellence."
The graduation ceremony included remarks from Susan Kushner,  Vice Chair of Volunteer New York!; Susan Schefflein (Class of 2002); Senior Vice President of Community Impact at United Way of Westchester and Putnam; Alisa H. Kesten (Class of 2005), Executive Director of Volunteer New York!; Neal Keller (Class of 2014), board member for Hudson Link for Higher Education in Prison; Olivia Ecker (Class of 2013), Chair of the Leadership Westchester Alumni Association; and David Severance (Class of 2003), President of Advanced Development Services who has been the facilitator of Leadership Westchester since 2007.
Executive Director of Volunteer New York!, Alisa Kesten said, "This was the seventeenth graduating class of the Leadership Westchester program since it came into existence in 1996. One of the many benefits of being involved with the program is access to our growing Leadership Westchester Alumni Association, an impressive group of men and women who continue to make a difference professionally and personally. They are involved in an ongoing alumni calendar of activities that include ongoing workshops, networking, and volunteering events and more."
For more information about enrolling in the coming 2014/2015 Leadership Westchester program contact Tony Fasciano at tony@volunteernewyork.org, or call 914-227-9322, or go to http://volunteernewyork.org/leadership.
* * *
Volunteer New York!
The core mission of Volunteer New York! is to inspire, mobilize, and equip individuals and groups to take positive action to address pressing challenges, support nonprofits and strengthen the quality of life in our community.  The organization encourages adults to serve, youth to build character, families to bond, young professionals to lead, mature adults to share their wisdom and businesses to engage through volunteerism.  By connecting individuals to nonprofit organizations as well as through organized volunteer projects, Volunteer New York! helps people take action to strengthen the quality of life in Westchester and the Mid-Hudson Valley.