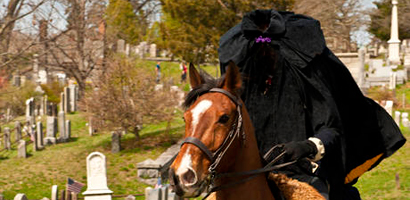 What do a headless horseman, an old book in Dutch and a bell have in common?  Stumped? They are part of Friday's kickoff celebration for the Old Dutch Church's 325th anniversary.  (More on the threesome shortly.)  And the church is one of the most famous in the country.
To celebrate, Pastor Jeff Gargano is holding a free, community-wide party on Friday, June 4, from 7 – 9 pm—Dutch Treats at the Old Dutch.
There will be a wine, cheese and "Dutch Treats" reception. A string quartet will play indoors, and activities are planned for all ages and interests.
For those who like a good scare, "The Headless Horseman," the silent movie classic from 1922 starring Will Rogers, will be shown outdoors.  Sit among the gravestones … if you dare.
History buffs will get a rare look at the First Dutch Church Record Book. It dates from 1715 and is usually under lock and key. Bring your dictionary. The book is in Dutch—the language spoken at the church for roughly 100 years. Other rare treasures will also be displayed.
The bell … what is its connection? In 1685, the builder of the church, Frederick Philipse, and his wife had a sturdy little bell cast in Holland. This bell will again be rung to welcome the community. Richly decorated with bands of gargoyles, birds and animals, it bears a Latin inscription that translates to "If God be for us, who can be against us?"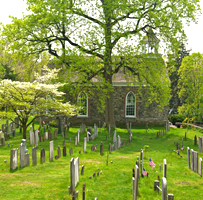 "Everyone in the area loves the Old Dutch," says the Rev. Gargano. "Just consider the connections from Washington Irving to another Washington, our country's first president, and don't forget it was built just a few decades after Henry Hudson sailed up the river. Our summer worship services, which will start on Sunday, June 6, the weekend of our kickoff party, attract a wide range of visitors."
So what's unique about the Old Dutch Church?
It dates from 1685, making it the oldest church in New York State.
Its historic building and 3-acre burying ground have long been associated with Washington Irving, considered America's Founding Father of Literature.
Its red sandstone gravestones bear names that are reminders of Katrina Van Tassel and others immortalized in Irving's "The Legend of Sleepy Hollow."
Moreover, the church, registered as a National Historic Landmark and part of the Reformed Church of the Tarrytowns, contains the crypt of Frederick Philipse (1626-1702). His manor house and gristmill are now a living museum at Philipsburg Manor.
This autumn at the Old Dutch Church, along with the traditional "Legend" reading, will be several special events. Topping off the 325th celebration is the Old Dutch Gala on October 3,rd—a much-anticipated festivity. Highlights will be a concert by organist Kent Tritle, who performs with the New York Philharmonic, and a reception at Philipsburg Manor.
We hope you can join the Old Dutch Church's 325th anniversary celebration on June 4!
325th Anniversary Events
325th Anniversary Community Party:  Friday, June 4, 7 – 9 pm   Free – all are welcome
Weekend Tours:  Sat/Sun, June – October, Noon – 4 pm   Admission: free; donations gratefully accepted
Sunday Worship: 10 am, June – September, including the series, "7 Sundays, A Celebration of Worship & Music":
6/20 Classical Guitarist, Mattias Jacobsson; 6/27 Broadway Artists, Cris Groenendaal & Sue Anderson; 7/4 Celebration of Independence Day, John Thomas; 7/11, Folk Singer/Guitarist, James Durst; 7/18 Flute & Harp, Rebecca Quigley & Joy Plaisted; 7/25 Jazz Duo, Mark Minkler & Tony Regusis; 8/1 Folk Duo, Ken DeAngelis & Julie Ziavros
Old Dutch Church, 430 North Broadway, Sleepy Hollow, NY 10591  (914) 631-4497