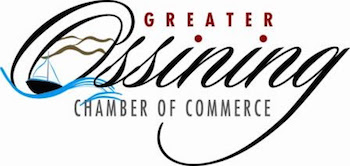 What follows is a statement from Gayle Marchica, President of the Greater Ossining Chamber of Commerce:
Congratulations to all for a continued and cohesive effort toward reaching our "magic" number! This process has been an intoxicating reminder of the democracy we sometimes take for granted and the powerful impact we can have on each other and our community when we work together. Maintaining focus, ignoring and refraining from negative banter, and maximizing each and every opportunity to harvest signatures in the next few days is key to the success of our efforts.
The Chamber of Commerce will continue to provide updates throughout the final days of this campaign. Please feel free to call the Chamber office with any questions at 914.941.0009. Thank you for your overwhelming support.
Gayle Marchica, President
Greater Ossining Chamber of Commerce
You can see a video on Gayle speaking publicly about this issue here: https://youtu.be/xR2qqleLmFM
Below is a letter from Ossining's Mayor, Victoria Gearity:
Petitions were submitted to the Village Clerk this afternoon regarding de-funding the bond voted on for construction of a roundabout. Consistent with NY Election Law section 16-116, in the next five days a written challenge may be filed, and the matter would then be referred to a Justice of the Supreme Court in Westchester County. Additionally, the Village Clerk has an independent responsibility to determine that there are sufficient valid signatures to trigger a public referendum vote.
The results of a referendum vote could delay construction of the intersection upgrade, but de-funding the bond does not eliminate the need for the intersection to be brought up to current safety and engineering standards, as has been prescribed to this Board by independent engineers. If a public vote is held, the results would determine whether or not to de-fund the bond that was passed on February 1. The anticipated cost of either a roundabout or a conventional updated signal at the 5-way intersection is about the same, as is disruption to downtown pedestrian and vehicle traffic.
If a public vote is required, it will be scheduled to take place within 60 days from today. At the March 1 Village Board meeting, the Village Clerk stated that a typical election costs the taxpayers approximately $30,000.
At the March 8 Village Board Work Session, Corporation Counsel Stuart Kahan, who is working closely with Village Clerk MaryAnn Roberts, will provide an update on the process.
To read the detailed information about the NY Election Law on this subject, follow this link to one of the FAQs on the Village website. http://www.villageofossining.org/Cit-e-Access/FAQ/index.cfm?TID=24&DID=2425#F1757
Victoria Gearity
Mayor, Village of Ossining
914-640-0575