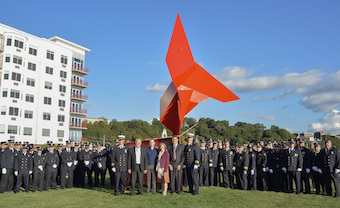 Ginsburg Development Companies (GDC) and Ossining Village officials met yesterday at Harbor Square to dedicate a modern sculpture installed on the new public waterfront park and promenade of the luxury rental complex. They also dedicated a new public kiosk in the park that features 8 large-scale plaques commemorating the history of the Ossining waterfront.
Photo Caption: Members of the Ossining Fire Department stand at Harbor Square and the sculpture "The Angel", along with (front row L to R) 1st Assistant Chief Angelo Manicchio, Humberto Barbosa dos Santos, President of Fireman Brigade of Alijó, Portugal, the artist Cesar Israel Paulo, Mayor Victoria Gearity, Martin Ginsburg, Founder and Principal of Ginsburg Development Companies, and Matthew Scarduzio, Chief Engineer of the Ossining Fire Department.
The 23-foot tall carbon steel sculpture, which is the fourth sculpture to be installed at Harbor Square, was created by artist César Israel Paulo of Portugal. Commissioned by Harbor Square developer Martin Ginsburg, the sculpture is an exact replica of a sculpture in Alijó, Portugal, which is the sister city of Ossining. Former Ossining Village Mayor William Hanauer had seen the piece on a recent trip and connected the artist back to Mr. Ginsburg to discuss recreating the piece at Harbor Square.
Called "The Angel", the sculpture is a tribute to the fire departments of Alijó and Ossining. The bright red sculpture varies its color and light and shadow depending on the time of day and year. "With the completion of this artistic project in Ossining there will be, in two different parts of the globe, two "Angels" standing as an homage to all those who give their lives for others," said artist César Israel Paulo whose work is represented in public collections in Portugal and in private collections in Portugal, Europe, and North and Latin America.
"This powerful piece rising from the bank of the Hudson River is a fitting tribute to the remarkable men and women of the Ossining Fire Department," said Ossining Village Mayor Victoria Gearity.
"Generations of Ossining residents have proudly served our neighbors. This sculpture is a fine way to honor their sacrifice and dedication," said Matthew Scarduzio, Chief Engineer of the Ossining Fire Department.
"We are delighted to have brought this exciting work of art to Harbor Square to be enjoyed by our residents as well as the general public who visit this beautiful new waterfront park. We believe that public art plays an important role in creating vibrant residential communities," said Mr. Ginsburg.
Mr. Ginsburg has a passion for displaying public art at GDC's residential communities. Last year, GDC installed a towering 42-foot tall sculpture at Harbor Square created by internationally known sculptor Peter Lundberg, whose work is in collections around the world. Across the Hudson in Rockland County, GDC's Harbors at Haverstraw residential community features several monumental sculptures along a waterfront promenade.
The new waterfront kiosk features photographs and maps from the Ossining Historical Society Museum. Panels are installed on the outside of the kiosk, each one highlighting a different piece of history from the Sint Sinck Indians to the iconic Sing Sing Correctional Facility to the arrival of the Hudson River Railroad's impact, the Hudson Wire Company, a tribute to Henry Gourdine, a renowned local fisherman for whom the park is named in his memory, and the opening of Harbor Square.
Harbor Square is a $65 million luxury rental complex featuring 188 luxury rental apartments with spectacular Hudson River views. In the first four months of opening, more than 50 percent of the units have been leased. Located across from the Ossining Metro North station, Harbor Square has a mix of studios 1 and 2-bedroom apartments, many with balconies with breathtaking views of the Hudson River. Resort-style amenities include full service concierge, rooftop club lounge, rooftop pool and deck with cabana seating, BBQ stations and outdoor bar; and a first-class spa and fitness center offering available personal trainers and spa treatments.
Harbor Square is the latest rental community of Ginsburg Development's GDC Rentals brand of luxury resort-style properties, which launched last year with the opening of Riverside, a 108-unit luxury rental at Harbors-at-Haverstraw in Rockland County. Other GDC Rentals communities include River Tides at Greystone, a 330-unit luxury rental complex overlooking the Hudson in Yonkers, and The Lofts on Saw Mill River, which features 66 loft-style rental apartments in the Village of Hastings-on-Hudson. All GDC Rentals communities are pet friendly and smoke free.