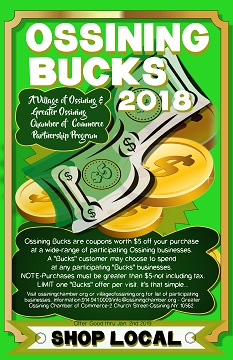 Holiday shopping just got easier for local residents in the Ossining community this season through the 2nd Annual "Ossining Bucks" program which offers shoppers coupons worth $5.00 off any purchase at a wide-range of participating Ossining stores and businesses.  The program was created through a partnership with the Village of Ossining and the Greater Ossining Chamber of Commerce to make it fun and easy to SHOP LOCAL and keep business in Ossining.
All "Bucks" coupon customers may choose to spend at many of their favorite local shops and help support the mom-and-pop shops throughout the Village. Shoppers can spot the green Ossining Bucks sign in or on store windows or doors including but not limited to the following merchants:  Bob's Army-Navy Store, Ossining Liquor, Boost Mobile, Penny & Ting, D Martins Barber, Miller's Cleaners, Damian Dry Cleaners, and many more.
According to Village Trustee-Rika Levin, the new Ossining Bucks program is a partnership between the Village of Ossining and the Greater Ossining Chamber of Commerce that gives community members a unique shopping option during the holiday season benefiting both customers and businesses while keeping dollars local. "Ossining Bucks makes holiday shopping a little more fun and at the same time it encourages the community to SHOP LOCAL and support our local businesses, said Dr. Gayle Marchica, Chamber of Commerce President. "It's a win-win for all!"
The Bucks Program launches on Saturday, November 17th at the Ossining Farmers' Market-Market Square and at the Greater Ossining Chamber of Commerce, 2 Todd Place from 2-4 pm. Come get your BUCKS!
Customers can also pick up their Ossining Bucks at the following locations starting on Tuesday, October 20th: Village of Ossining- Managers Office 16 Croton Avenue; Greater Ossining Chamber of Commerce – 2 Todd Place; Ossining Recreation Center – 95 Broadway; Ossining Public Library – 53 Croton Avenue. Purchases must be greater than $5.00 not including sales tax and are limited to one "Bucks" offer per visit. Coupon good through January 2, 2019.  To view the full list of participating merchants and for more information visit ossiningchamber.org or villageofossining.org starting Tuesday, November, 20th.