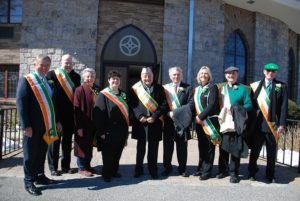 The Sleepy Hollow St. Patrick's Parade Committee has named Isabel Byrne Milano as the Grand Marshal of the 23rd Annual St. Patrick's Parade. Leading the parade with Isabel will be her Aides, Thomas Anderson of Dobbs Ferry; Sister Mary Stephen Healey R.D.C. of Elmsford; Lisa O'Reilly of Hastings on Hudson, Vince Phelan of Ardsley; Andrew C. Quinn of Ossining; Denise Scaglione, of Sleepy Hollow; Lee Anne Sullivan of Tarrytown; and Michael Toolan of Irvington.
The 2019 parade will be dedicated to the memory of Kitty Geissler, who was the 1st Grand Marshal of the Sleepy Hollow St. Patrick's Parade. The installation of the Grand Marshal and the Aides will be at the Westchester Manor, 140 Saw Mill River Road, Hastings-on-Hudson, on Friday, March 1 2019, at 7:00 PM and will include an evening of fun, food, and music.
Parade day, Sunday, March 10 2019, will begin with mass at 10:00 AM at Transfiguration Church, 268 South Broadway, Tarrytown, New York, followed by a reception in the Church Hall. The parade formation will be on Main Street in Tarrytown and step-off will start promptly at 1:30 PM.
For more information about the parade or the installation event, contact Tom Kennedy (914-261-1971) or Paul Clarke (914- 588-7777).