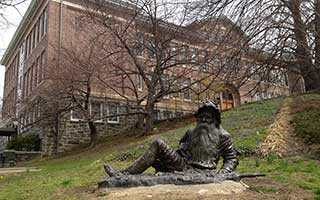 The 2013-2014 budget for the Irvington School District, which was to be approved by the Board of Education on April 23 (after this article was written), will require a 60% super majority at the ballot box to pass this year because it will exceed the 2% tax levy cap imposed by the State of New York.
Superintendent Kristopher Harrison explained that a number of issues contributed to the need to exceed the cap this year, not the least of which is the District's recent history of austerity, which has given the District a smaller tax levy base with which to begin tax cap calculations.
"Our situation is different from many of our neighbors in that if we roll back the hands of time to 2009, the Board of Education and the community were very concerned about the fiscal climate, and at that time began to scale back a lot of services," he said. "There were many, many reductions during that window of time."
Many in the community are now questioning the wisdom of the wide range of reductions made in past budgets. "I have to say there's great concern from every corner of the community regarding the cuts and that there may have been a potential impact on students in limiting course offerings and not providing support," said Harrison.
"This district seems to have been ahead of the curve in that they made cuts before other school districts had to do so," said Beverly Miller, Assistant Superintendent for Business. "Other school districts are now delving into their reserve funds to keep below cap, but this district has no reserve funds. They have been utilized throughout the years."
The District began working on the budget in December, and held a series of public meetings where every aspect of the budget was looked at line by line. "At the culmination of [those meetings], there was a very clear message from the Board of Education and the community… that we needed to not only preserve the existing programs, but that we needed to find opportunities to expand and enrich the offerings that we have for our children," said Harrison. "On many occasions members of the community stepped forward and asked us to be more ambitious."
The current budget calls for no reductions in staff or programs, mainly because what could be cut has already been cut within the past four years. Since 2009, Irvington Schools have cut 20.6 teaching positions and 18.4 additional staff members while eliminating 20 electives at the high school level.
With no fat left to trim and no reserves to draw upon, the District is left with few options to deal with the cost increases over which they have no control, which include over $1,000,000 in increased pension costs, over $250,000 in increased health insurance costs, and over $3,000,000 in tax certiorari obligations [stemming from reduced property values] that even with short-term financing is costing the district $700,000 per year to cover. "We have no place to go other than over the cap," said Miller.
"I identified what a maintenance budget would look like," said Harrison. "For us to maintain all our programs and services that we have today, we'd be $1.7 million over cap. That's just to maintain, that's not trying to enrich anything."
Other costs hitting the District over which they have no control stem from the State-mandated implementation of the Annual Professional Performance Review (APPR). "Excluding time, looking at professional development costs, material costs, we can say we've easily spent $65,000-$70,000 [on APPR]," said Harrison. In exchange for that $65,000, Irvington received $1,200 in Federal Race to the Top funding.
This year's transition to the Common Core Curriculum is also taking a financial toll on the district. "At the end of the day we're going to have to step back and consider whether or not we need to purchase a significant amount of other materials such as new textbooks or teacher materials, which would certainly run into the hundreds of thousands of dollars," said Harrison.
Another issue arising from this year's move to the Common Core Curriculum will be the District's test scores. NY State Commissioner of Education, John King, has gone on record warning school districts to expect as much as a 30% drop in test scores due to the realignment of State tests with the new Common Core Curriculum, and Harrison warns that Irvington will not be immune to the reality of lower scores. "We would envision that there will be drops in test scores consistent with other, similar districts," he said. "This will prove to be a new baseline for us, and we'll be able to utilize this data to inform our next steps in enhancing our curriculum."
In an attempt to mitigate some of the financial strain it faces, the District has done what it can to squeeze savings out of elements directly under their control. "Our Board of Education worked hard with all of our bargaining units over the course of the year. We have new negotiated agreements with each," said Harrison. "Contained within those contracts is about $2 million of cost savings or avoidance."
Other savings have been realized through the Quad Villages Consortium partnership between Irvington, Ardsley, Dobbs Ferry, and Hastings, which allows the districts to share expenses for staff development, parent programs, and transportation. The yearly transportation savings alone top $300,000.
Despite the situation in which the District finds itself, Harrison believes there is light at the end of the tunnel. "The Board believes that it is essential to go beyond the cap this year to preserve programs and to continue to make investments in maintaining our facilities," he said. "However, looking to the future, they believe that we are on target to remain under the cap for years to come."
The exact tax levy cap overage for Irvington had yet to be determined at the time of this article, but the Board of Education gave the District explicit instructions to keep any tax rate increase under 4.85%, and Superintendent Harrison fully expects to achieve this goal.
All of the documents and presentations, including the final budget regarding the school budget, which, barring unforeseen events, will have been passed at the April 23 Board Meeting, can be found on the District's website, located at: http://www.irvingtonschools.org/.