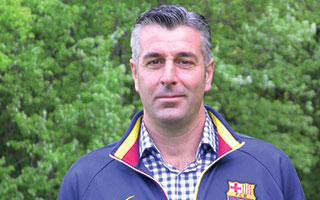 Although born in Dobbs Ferry, Joseph DeNardo has called Irvington his home, and his wife and children are highly visible in the Village socially and professionally.  Tall, handsome and soft-spoken, DeNardo is an example of a self-made man who loves what he does, and by all accounts, others are very happy with his chosen career as well. In short, Joseph DeNardo builds homes, and how he came to be the noteworthy builder he is today started when he was a young man (comparatively speaking – he's currently 45).
After graduating from Dobbs Ferry High School he went into the construction business doing masonry, blacktop and excavation work.  "I was with a partner for one year and then after that I worked for myself for the next 7 years. I started with little jobs here and there," he said during a recent interview (along with the Irvington realtor, Cindy Kief). DeNardo's father, Salvatore, at that time was doing renovation work, so Joseph followed suit with his own specialization. Like his dad he worked with his hands, and little jobs became bigger jobs.
In 1994 he built his first house and he has been building ever since. "I did two modular homes on Ogden Place in Dobbs Ferry," he said. Two years later, in 1996, he would meet Cindy Kief who, at that time, was not a realtor. Kief's husband, Steve, created a custom kitchen for DeNardo on a newly built Irvington home and the friendship began. It would be approximately 12 years before Cindy Kief (who became a realtor) and Joseph DeNardo started working together. "It took a while for Joe to see me as a realtor because we had become friends when I was working in television," Cindy Kief said. "He took notice right after I had done Emerald Woods in Tarrytown, because it was the pre-construction model used that had been so successful," she added.
That pre-construction model engaged home buyers from the ground up so to speak. A new home was built with their needs and style in mind as opposed to a home built in the speculation model where the builder determines what the home will look like inside and out.  "With pre-construction you have the ability to convey to the homebuyer something that does not exist yet and successfully give them the confidence to really choose everything they want and feel they need in a new home," Kief noted.  The ability to meet people's home buying needs is, by DeNardo's own account, one of his biggest attributes. "I am a people person, and customer satisfaction is what I work for," he said. "At the end of the day, he wants happy people in his homes," Kief added.
"I was brought up by my parents to have respect for others and to try and make people happy. I get a lot of joy from seeing happy people in the homes I've built. When you start planning a home and then build it you become attached to it, but you have to let it go. So when I see families and their children in homes I've built I get a lot of satisfaction," DeNardo said.
The homes Joseph DeNardo has built are unique and different from one another. He is able to deliver people's visions about the type of home they want with all of its personalization. At present he and Cindy Kief are working jointly on the Gracemere project where once again home buyers will have an opportunity to customize their lifestyles and have their homes reflect their wishes and needs. "Joe is a man of few words, but he is very committed to each and every home he builds for each and every family," Kief said.