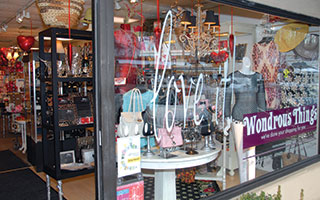 Wondrous Things, a lifestyle shop in the Village of Briarcliff Manor, has been providing a unique shopping experience for customers in Westchester County and the New York area for over 25 years. Wondrous Things buyers travel to bring together collections of taste, style and value. Hence, their message of "We've done your shopping for you" is their way of telling you that they have made your shopping experience more valuable and less time consuming.
You will find insightful, efficient and courteous customer service while not forgetting the personal touch.
From fun to sophisticated clothing, accessories, beautiful jewelry collections and the best collections from vendors the customers love including Michael Aram, Brighton, Judith Leiber, Thymes, Vera Bradley & more.  You will also find gifts for the home and host, gourmet food gifts and gifts for baby.
As a buyer for John Charles, Ltd. in Tarrytown, Donald Borho gained the experience to set out on his own to develop Wondrous Things and take it from a shop that specialized in handcrafted gift items and jewelry to a boutique that expanded into fashion, accessories and gift items for the home.
In early 2000, Scott Rogers joined the business, and with his extensive experience leading retail organizations for high profile brands and designers such as Donna Karan, Giorgio Armani, Victoria's Secret and the Walt
Disney Company, Donald and Scott began the transformation of Wondrous Things into the "lifestyle" boutique.
Wondrous Things is located in Briarcliff Manor and is open every day! Call 914-762-3300.