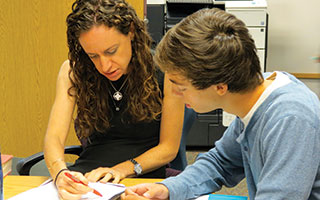 The New York State English Council (NYSEC) has named Briarcliff High School's Writing Lab as a Program of Excellence, an award which, according to Briarcliff High School's English Department coordinator,Jamie Mandel, is "presented to programs which support creative instruction and learning." The Writing Lab is an interdisciplinary, collegial program offering students the opportunity to sit down one-on-one with English teachers during their free periods to go over their writing in subjects ranging from chemistry lab reports and science research papers to college essays.
At right, English teacher Samantha Fishman works with Briarcliff High School Senior David Kaminsky on a college essay in the school's writing lab.
"We want to thank the administration and the Board of Education for their continued support of the writing lab and their belief that every student can be successful when given the time, the instruction and the tools to do so," said Mandel.
Briarcliff High School Ranked #17 Nationwide by Newsweek
Newsweek magazine recently released its annual list of America's top 500 high schools for college preparedness, and Briarcliff High School landed at #17. "This is a wonderful affirmation of what a community can accomplish in support of their schools," said Superintendent of Schools James Kaishian. "We have an amazing faculty and staff filled with talented and dedicated teachers, counselors, clinicians and administrators. We have a wonderful student body that comes to us eager and ready to learn. We have parents who place faith our schools and support our efforts in the classroom and at home. It is a winning combination."
To arrive at their score, Newsweek factored in college enrollment rate, high school graduation rate, weighted AP/IB and SAT/ACT scores, change in student grades, and the counselor-to-student ratio.
"This academic standing is a testament to the expertise and dedication of our faculty and staff, outstanding students and a community that supports and values excellence in education," said Briarcliff High School Principal Debora French.
Briarcliff Manor Education Foundation's Fall Festival Raises Funds for Classroom Grants
More than 140 supporters attended Briarcliff Manor Education Foundation's (BMEF) fall luau at Law Pavilion Park on September 19, to help raise money for the schools of Briarcliff Manor. "We are happy to have had parents from all three schools in our district come together at the year's first friend and fundraising event," said BMEF Co-presidents Christine Kopec and Carolyn Linett in a joint statement. "We appreciate the support of our community, which enables us to continue to grant innovative programs and equipment to enhance our children's education."
Recent grants funded by BMEF include an electronic music lab, 3-D doodler pens, Vernier LabQuest 2 interface and probes for the middle and high schools, as well as classroom amplification systems and smart document cameras for Todd School.
For additional information on the BMEF, or to make a donation, please visit www.thebmef.net.