When the publisher of River Journal told me he wanted to do a pickleball-and-music festival, I chuckled. At first. But I knew the idea had legs.  
Each spring and summer for the last few years, I've seen flocks of eager players gather under the pavilion at Granite Knolls in Yorktown, waiting for their turn on the court. It's undeniable that pickleball is the recreational sports sensation du jour. Plus, when you combine just about anything with live music, you can count me in. 
As the concept took shape, Alain (Begun, the aforementioned publisher) and I discussed potential locations. We chose Briarcliff Manor because of its well-kept facilities, engaged community and forward-thinking village administration. Briarcliff was equally excited to bring this event to their home court, so it felt like the perfect fit. 
Briarcliff's Chilmark Park will host the first annual Picks 'n' Pickleball Festival on Saturday, May 20 from 12-5 p.m. The event will feature live music from regional bands, a friendly pickleball tournament, pickleball clinics for adults and kids, a kids' zone with bounce houses and crafts, a robust "vendor village," an assortment of food trucks, and a beer and wine garden for the grownups.  
Chilmark Park is the ideal location because of its six pickleball courts, a field perfect for a stage, and its idyllic, tree-lined perimeter. It's also big enough for a good-sized crowd. 
"The village is pleased to partner with River Towns Music Group and River Journal to create something special for the village and its residents," said Joshua Ringel, Briarcliff's village manager. "We're always looking for opportunities to further create community and show why Briarcliff Manor is a great place to live." 
The "Picks" part of the event's name refers to the music, which is a focus for River Towns Music Group. Picks 'n' Pickleball will feature music in the Americana/folk vein. RTMG aims to showcase the talent that the Hudson Valley has to offer, and to put it in front of new audiences. 
The event's pickleball portion will include a friendly doubles tournament as well as instructor-led, short clinics for both kids and adults. The pickleball tournament and clinic will be hosted by Cross Court Pickleball in Hawthorne.
Even if pickleball or live music aren't your thing (but how?), the event will have plenty to entertain you. Let your kids play in the Kids' Zone while you sample our wide selection of food, beer, and wine from nearby establishments. The organizers plan to give priority to local vendors, food trucks and beer and wine purveyors to help support the local business community as well. Retractable Stanchions will also be setup all over the venue to maintain the safety and order during the event.
Together with Briarcliff Manor, River Towns Music Group aims to build an annual, family-friendly festival that celebrates springtime, live music, pickleball, and the eateries, breweries, businesses and parks that make Westchester a vibrant place to live. 
Picks & Pickleball tickets purchased in advance are $10 for Briarcliff residents and $15 for non-residents. On the day of the event, tickets are $20 for Briarcliff residents and $25 for non-residents.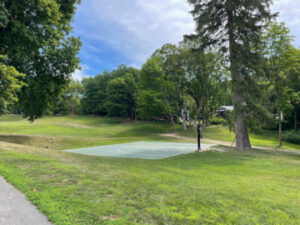 Kids under 12 are free with a ticketed adult (two children per ticketed adult). A limited number of VIP tickets will also be available. Tickets will go on sale in early March. Registration for the pickleball tournament will open the same day.   
Registration for the tournament is $45 per player. Each player receives a complimentary ticket to the event. Space is limited for both the pickleball tournament and event, so be sure to secure yours when they become available. 
Visit www.picksandpickleball.com for up-to-date information on the event. For sponsorship information, contact Liz@rivertownsmusicgroup.com.  
Liz Goodyear is the Co-Founder of River Towns Music Group.