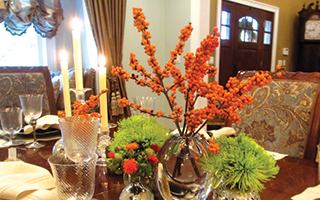 This summer, while most of us were probably wilting from the heat or in the midst of a vacation, the key players for this year's Festive Stroll of Homes to benefit the Ossining Children's Center, were busy laying the groundwork for what promises to be the most elegant Festive Stroll to date.  
Homeowners of four luxurious Briarcliff Manor homes were agreeing to open the doors to their exclusive homes. Sue Bicksler Taub of Holbrook Cottage was planning and overseeing the event, and
fellow Co-chairs, Joan McGinty, Carol Welsh and Meg Curry, were mapping out the myriad details of lunch menus, house docents, table sponsors and auction prizes.  John Gualtiere of Hudson Landscape was busy devising the perfect holiday décor for the outside of this year's homes. Even the designer of one of the White House Christmas trees, Jim Marvin, was helping design one of the trees for this year's Stroll.
The beneficiary of this year's stroll is The Ossining Children's Center (OCC). It is an invaluable century-old neighborhood institution that serves as a  community resource and advocate for families.  It provides care for children in a safe and nurturing environment while their parents work, and creates a foundation for children's life-long intellectual, social, emotional and physical growth. This is made possible by the OCC's genrous tuition assistance program, which is supported by their two annual fundraisers and the support of the local community.
HOME TOUR SCHEDULE:
Friday, November 22, 10:00 am – 12 noon & 2:30 pm – 4:30 pm.
Saturday, November 23,  10:00 am – 3:00 pm.
Friday @ 12:30 pm — A Hudson Valley Holiday Luncheon at Sleepy Hollow Country Club.
Festivities continue at Holbrook Cottage both Friday and Saturday from 11:00 am – 5:00 pm with champagne and Hudson Valley refreshments, personalization of Ol' Saint Nick pieces and an ornament gift for all "Strollers."  A percentage of holiday shopping purchases will be donated to the Children's Center.
RESERVATIONS for the Festive Stroll of Homes are available on line at www.ossiningchildrenscenter.org as well as at Holbrook Cottage, 1253 Pleasantville Road, Briarcliff Manor.
For more information or questions please contact Shawn Cribari, Director of Development of the Ossining Children's Center and this year's Festive Stroll of Homes beneficiary, at 914- 941-0230 ext. 13
or occdevelop@aol.com. The  price  for the Festive Stroll and Luncheon at Sleepy Hollow Country Club is $150.00.  Patron tickets that include two tickets for the stroll and luncheon and acknowledgement in the journal are $500.00. Tickets to the Stroll only are $50.00.
HOMES WILL BE DECORATED BY: Hudson Interiors and Greater Than We, Holbrook Cottage, C. Welsh Designs and Hudson Landscapes.
This year's tour features four magnificent homes, all in Briarcliff Manor, each offering a unique experience.  Three of the homes will be decorated for Christmas and one for Hanukah and Thanksgiving.  Although the location of each home remains secret until the day of the stroll, it is known that two of this year's homes have dramatic Hudson River views — one is a delightful rambling family home on an exclusive small lane and another is the home of an interior designer, who will be incorporating the work of well known local artists.
One of the river view homes reflects the homeowners' love of the outdoors and their travels out West.  As visitors step into this home, they are immediately awed by the expansive twenty-foot, floor-to-ceiling windows that overlook the river.  They will be greeted by a majestic stone fireplace and towering Christmas tree.   The Christmas decorations are rustic and nature-inspired in shades of gold and copper with forest animals such as owls and foxes, among a little forest of trees. Beautiful garlands of magnolia leaves and nature-inspired decorations will grace the area. "Renna" dishes, a whimsical new reindeer design by Vietri, will be shown with paprika-colored accents and natural linen. This stellar renovation of a 1950's home into a breath taking modern classic home continues to the second floor, where the master bed and bathrooms both enjoy dramatic river views.   The Christmas tree in the master bedroom, designed by Jim Marvin, boasts the same colors as he used last year on one of the White House trees.
The next riverfront home is a little more traditional, and as Sue Bicksler Taub said, "we are not going to reinvent the wheel here, but are going to build on the homeowner's traditions."   The homeowners, who have downsized to this beautifully proportioned home perched above the river, have many wonderful Christmas traditions and decorating ideas.  They display the family photo Christmas cards that come each year on an entire wall, watching in joy and amazement how the various families grow and change, adding new children and grandchildren through the years.
Traditional in appearance, this house has a lively history that the owners love to share.  It was finished in 1951 by Harry Helmsley and his first wife as their weekend home. It was famous for the many parties held there on the 17th hole, for which Harry arranged private gate access.  The current homeowners were recently visiting the Old Dutch Church and Sleepy Hollow Cemetery and discovered that Harry might have had the last laugh, or what the "Mr." of the current household calls, the "classic happy ending."  There, in what is probably the largest mausoleum in the cemetery, is Harry buried with both his first and second wives!
A short drive from the two riverfront homes, set back on an exclusive lane, is a stately, yet rambling, traditional family home with all the latest amenities. It is set in what the homeowner describes as "a great neighborhood with great neighbors and lots of kids."  This very welcoming home will be decorated for the Stroll by C. Welsh Designs.
The kitchen is decorated for Christmas in classic red and white, with three red pitchers, filled with greens and branches, interspersed with little skier figurines, merrily making their way across the kitchen table. Four-inch high Simon Pearce glass Christmas trees add sparkle and charm.  C. Welsh Designs and Vietri created the place settings using Vietri's "Ruffles" pattern for this traditional, yet whimsically decorated young family home.
The next stop takes us to one of Briarcliff Manor's favorite roads to a professional decorator's home, situated directly on a golf course. The Interior Design Company, Hudson Interiors, assisted by Susie Mordoh's Greater Than We, has chosen to highlight two holidays – Hanukah and Thanksgiving.  She is contributing a special touch by including designs of local artisans, and a special display of menorahs and dreidels, in a mix of styles and materials.  An exclusive painting by Linda Perlmutter, which was used as the original for Caspari cards, will certainly provide the one beautifully unique highlight in another room.
As Roberta Engel Socolof of Hudson Interiors states, "When we moved here twenty years ago, Elsie Smith invited me to an Ossining Children's Center event.  It made such an impression on me how our community was so supportive of our Ossining neighbors who needed us, that I always thought I would participate. This year the timing was right. My goal is to help bring in new faces who may not have attended before and to expose tour guests to a special experience."
And, who knows, perhaps this will help set the stage for an even bigger and better Festive Stroll next year!