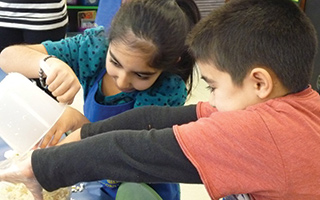 Todd Elementary School Pops To Life. Last month, students in the second grade at Todd Elementary School turned their classrooms into popcorn factories as part of a study on economics. Students learned about assembly lines, supply and demand, budgets, loans and other topics while churning out bags of hot salted popcorn with the help of parent volunteers.
Selling their product for 50 cents per bag allowed the students to raise close to $1,000 during the three days of the event, which will be donated to charity.
At right, Second graders create popcorn at Todd Elementary School.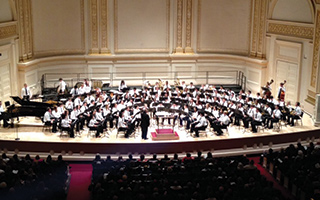 Briarcliff Students Perform at Carnegie Hall
On Sunday, February 9, Briarcliff High School students Matthew Bombassei, Gregory Goldberg, and Edwin Zhou performed with the 2014 High School Honors Performance Band at legendary Carnegie Hall in New York City.
The students, all members of the Briarcliff High School Concert Band, auditioned in the fall. Once selected, they joined the rest of the finalists (who came from all across the country and Canada) and enjoyed five days of instruction from professional  Conductor Craig Kirchhoff culminating in their performance at the celebrated venue.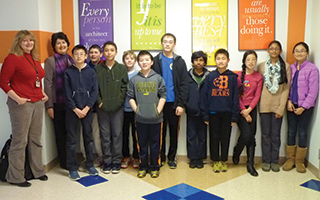 Masterful Mathletes
Briarcliff Middle School's math club, Mathletes, entered their first American Mathematics Competition, scoring 58 out of a possible 75 points and placing the team on the Merit Roll. The competition is a grueling 40-minute challenge which tests the students' knowledge of mathematical concepts including probability, spatial visualization, estimation, interpretation of graphs, and percentages.
Four Briarcliff students – Letitia Chang, Farhaanah Mohideen, Matthew Tu, and Michael Tu – scored in the top five percent out of the 149,804 students from 2,410 participating schools, earning recognition as part of the Honor Roll. In addition, Christopher Li and Michael Tu won placement on the Achievement Roll, recognizing high-scoring students in grades six and under.
Elementary Science Teacher Named LoHud Educator of the Week
Briarcliff Middle School science teacher Julie Gallagher was named as LoHud's Educator of the Week for the week of January 15. The sixth-grade team leader and Middle School science department chairwoman, she has been teaching for 15 years, spending time with BOCES and in Chappaqua schools before coming to Briarcliff Manor.