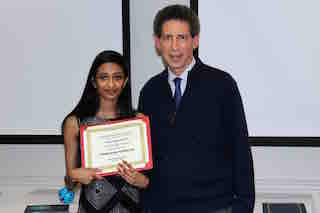 Westchester Chemical Society Honors Briarcliff Senior
Senior Aishwarya Sritharan was awarded the Westchester Chemical Society's Award for Outstanding Achievement in High School Chemistry. She received her award at the Westchester Chemical Society's awards night at Pace University in Pleasantville. The evening involved award presentations, dinner and a lecture delivered by Dr. Stephen Cooke, a SUNY Purchase College professor.
"Aishu's record during two years of classes with me was exemplary and she richly deserves this honor," said Briarcliff Manor High School chemistry teacher Dr. Robert Saar.
Todd Elementary Welcomes Author
Children's author Susan Hood visited kindergarteners and first-graders at Todd Elementary School and read from her two books, "Leaps and Bounce" and "Spike, the Mixed Up Monster." The two books introduce children to the topics of metamorphosis and a critically-endangered salamander, in an entertaining way.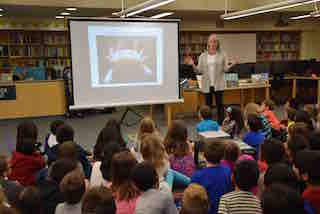 "I saw a photograph of [the axolotl, a real endangered salamander]," said Hood about her "Spike" character. "To me, he looked like a Muppet and I had to research what this animal was. I just wanted to use him as a character for a friendship story, but the more I found out about him, the more amazing the real animal was. He is critically endangered and can grow any body part."
Hood has worked at "Nick Jr. Magazine," Sesame Workshop, Scholastic and "Instructor Magazine," and has written for numerous educational publications. In addition to reading from her books, the author answered students' questions about the axolotl – which is found exclusively in the lake complex of Xochimilco in Mexico.
"It's exciting to see the enthusiasm for learning and reading generated by author visits," said teacher librarian Tara Phethan. "Because of Susan Hood's visit, they know about the critically endangered Mexican axolotl, a fascinating amphibian."