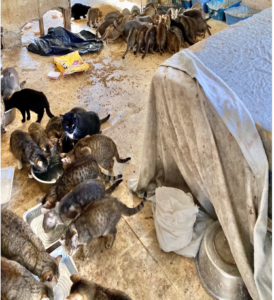 Briarcliff Manor (N.Y.) — SPCA Westchester announced that their Humane Law Enforcement Unit (HLE), under the direction of Ernest Lungaro, seized 150 cats living in filth and squalor after Yorktown Heights Police discovered the residence was filled with what seemed like an endless number of cats being hoarded in the small, dilapidated home.
Local police were asked to perform a wellness check when they discovered two homeowners deceased in the residence. Officials were unable to clear the scene until the SPCA's rescue team were able to remove many of the cats, who were found in every room of the home, including the ceilings and walls.
All of the cats, who mostly appear to be Abyssinian mixes, are suffering with upper respiratory, eye and skin infections, malnutrition, dehydration, and sadly, some have more severe injuries that require immediate medical attention. All of the cats were starving upon rescue and had likely not eaten for many days, and sadly, some were already deceased.
"This is the largest hoarding case SPCA Westchester has ever undertaken, and we desperately need the support of the community to help care for these neglected and sick cats who need urgent medical attention," says Shannon Laukhuf, Executive Director. Whether it's financial support, cat food, litter, blankets and towels, all contributions are welcomed and greatly appreciated.
Rescue partners from Best Friends Animal Society, Mohawk Hudson Humane Society, Westchester Humane Society, Rescue Right and Columbia Green Humane Society have also stepped up to help the SPCA with this massive rescue effort.
SPCA Westchester does not receive county or federal funding and is not associated with the ASPCA or any national organizations. If you suspect animal cruelty, please call the SPCA's 24-hour confidential hotline at (914) 941-7797.
SPCA Westchester is located at 590 North State Road, Briarcliff Manor, NY 10510.