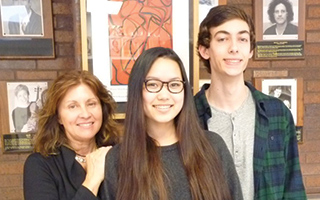 Briarcliff's Golden Artists Junior David Kaminsky and sophomore Maya Ponzini were awarded Scholastic's Art and Writing Regional Gold Key Awards for their oil painting submissions. Run by the Alliance for Young Artists and Writers, the Scholastic Art and Writing Awards have been given out since 1923, identifying exceptional student artistic and literary talent and exposing that work to a national audience.
At right, BHS visual arts coordinator  and teacher  Roxanne  Ritacco  congratulates BHS sophomore Maya Ponzini  and junior  David Kaminsky on being awarded Scholastic's Art and Writing  Regional Gold Key Awards for their oil painting.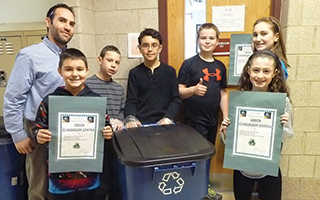 Students Work Towards a Greener Middle School
As part of a project promoting sustainability awareness, the Briarcliff Middle School Greenhouse Club, advised by science teacher Bob Iovino, has been judging individual classrooms and awarding certificates for those that meet strict "green standards." To receive a certificate, the classroom must have two visible recycling bins labeled for paper and plastic; there must be at least one live green plant, maintained and watered by students; and within the
classroom, students may not drink from single-use bottles, only reusable containers.
"The certificate program caught on quickly," said sixth-grader Andrew Winiarski. "After the first teacher received one, all of the teachers started wanting one." To date 16 certificates have been awarded.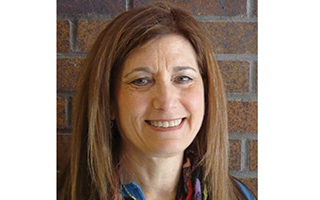 Pam Gordon Named 2014 Briarcliff Teacher of the Year
Briarcliff High School world language teacher Pam Gordon has been named as Briarcliff Teacher of the Year for the 2014-15 school year. She has taught in Briarcliff since 1994, having worked in all three of the district's schools.  "I was surprised; I am truly honored," said Ms. Gordon. "I work with a lot of wonderful people. There are so many great teachers here at Briarcliff who deserve this award. My colleagues have all been very supportive."
"Pam represents the qualities that have contributed to Briarcliff's educational standards of excellence," said Superintendent of Schools James Kaishian. "As a beloved teacher of Spanish and French, Pam has made significant contributions to the growth and development of our world language department, while immersing her students in the language and culture of the countries they are studying."
Academic Challenge Team Wins Beckins Challenge
Briarcliff Varsity Academic Challenge team won the 24th Omar Q. Beckins Academic Challenge, held at White Plains High School in late March, just weeks after the Junior Varsity team won the Metropolitan Academic Challenge Conference #3 in Irvington.
Competing against 41 other teams, Briarcliff's "A" team of Tong Li, Dan Bramson, Jacob Gold, Allen He and Arjun Rao defeated Edgemont in the semifinal round and Chappaqua in the finals for the championship. Li was named the tournament's Most Valuable Player with the highest point total earned. Briarcliff "B" team captain Charlie Driver earned the fifth-highest overall score and was named to the All-Tournament Team.