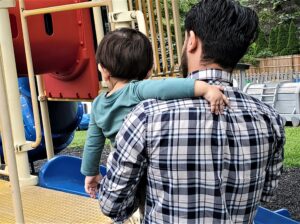 Days after the Taliban seized power in Afghanistan in 2021, Abdullah waited nervously in Kabul for his pregnant wife and baby daughter to arrive from Jalalabad, some 90 miles away, so they could flee their homeland. 
They were among hundreds packed into a U.S. military flight that departed for Qatar at 11 p.m. Aug. 26 — just hours after a suicide bomber killed 13 American service members and dozens of Afghans at Kabul International Airport.  
Four days later, America's final troop withdrawal ended a 20-year occupation. 
Abdullah, whose real name is being withheld for his safety, recently reflected on that day and the two years since then during an interview at Congregation Sons of Israel in Briarcliff Manor. 
He had worked as a security guard for the CIA in Kabul, and his family was among more than 100,000 Afghanis who were resettled in the U.S. following the war. 
Although the risk posed by his ties to the U.S. necessitated his departure, leaving his mother and sisters in Jalalabad has been difficult. "I feel it's really hard … I have a big family. I miss everybody," said Abdullah, 25.  
Working with the American forces had provided good pay at a time when jobs were scarce. But then came a "very difficult, very hard year for my family in 2021," he said. "Very dangerous on August 15," when Kabul fell to the rebels.  
Abdullah's father was killed by the Taliban in 2011 while serving in the Afghan army, he said. He sends whatever funds he can to his mother in Jalalabad, where money, food and healthcare are scarce. The repressive regime has barred women from many employment and educational opportunities. His 14-year-old sister is not allowed to go to school. 
"This time for every woman, Afghanistan is hard," he said. "No school, no college, no work." 
Danger is never far away. In April 2022, the Taliban came to his family's house looking for him. "They're checking my house, they're looking for something like my picture," he said. "They asked my mom, 'Where's your son?' And she said, 'I have no son.' " The rebels left soon afterward.  
As Abdullah talked about the road to his new life in Westchester, his 1-year-old son fidgeted in his arms. 
After arriving in the States, Abdullah's family and thousands of other Afghan refugees lived in camps at military bases in Indiana and New Jersey. They were living in Newark when Church World Service connected them with the Briarcliff synagogue's Refugee Resettlement Committee. The committee's volunteers brought them to Westchester in February 2022.  
Speaking very little English when he arrived — Abdullah worked with U.S. agencies mostly through translators — he began learning the language through the synagogue Resettlement Committe's volunteers and is now taking ESL classes at Westchester Community College. After working for a time in hotel jobs, he's now employed in building services at a local hospital.  
 'My American family'
Abdullah is working toward his General Equivalency Diploma and dreams of going to college. His wife, who is 21, is busy caring for their children but would someday like to work outside the home as a seamstress. 
Their daughter needed surgery to repair a cleft palate, but the hospital in their home country had been destroyed by the Taliban, so she received the procedure after they arrived in the U.S. Now almost 4 years old, she's in a program that's providing speech therapy so she can catch up on her language skills. 
Abdullah has no idea if he'll ever be able to return to Afghanistan and is focused on bringing the rest of his family to join him here. 
Citizenship will make it easier for him to bring his mother and sisters to the U.S., said Julie Peskoe, co-chair of Congregation Sons of Israel's Refugee Resettlement Committee. 
Peskoe said the nonprofit Neighbors Link is providing legal assistance as Abdullah and his family seek citizenship through the Special Immigrant Visas program for those who worked with U.S. forces in Afghanistan. 
Abdullah calls the congregation's two-dozen volunteers "my American family," and expresses gratitude for how he and his family have been accepted here.  
"I am happy for my life," he said. "Good for school, good for work. My kids are happy here." 
A framed poster on the wall at the synagogue reads "We were once strangers, too." 
"When we started the resettlement committee, the volunteers shared stories about their families' immigration and almost every member of the resettlement committee is an immigrant or a child of immigrants," Peskoe said. "And we're happy to be able to help another family succeed here."
She added: "I think something the volunteers never expected is to make friends with this new family and for us to so enjoy the process: Getting to know the family and becoming friends and seeing them succeed here. A lot of people are very fond of this family and have been enjoying helping." 
The synagogue's Refugee Resettlement Committee is also aiding a Ukrainian family and will be deciding what comes next in the fall, Peskoe said.