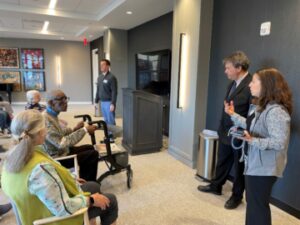 Westchester County performs a vital function in the lives of Westchester County residents.
That was the message Westchester County Executive George Latimer had for residents of Waterstone of Westchester, White Plains' newest luxury senior living community. Latimer paid a visit to Waterstone last week in advance of President's Day.
"Westchester County is a regional level of government and performs many functions that your local governments or the federal government don't,'' said Latimer. "Many of the services we provide are not as visible, but still important.''
Latimer pointed to the parks, sewage treatment plants, jails and social services as examples of services provided by the county. The county's chief executive also praised a few residents in the audience who had served in local governments including Harry Bright who was Executive Director of the Human Rights Commission and at one time was Latimer's teacher and coach.
"He did not brook any nonsense,'' joked Latimer about Bright. Latimer said that older adults should not be overlooked as he has discovered that like Bright many led very accomplished lives. "You meet people and you find out later on that he was the person who invented the light bulb or she was a famous opera singer. I'm sure this building is filled with talented people who decided to come here. It's a very impressive place.''
Located on Bloomingdale Road in a vibrant and walkable neighborhood of downtown White Plains, Waterstone of Westchester features 132 beautifully appointed residences and supportive services designed to provide seniors with independence, connection and socialization.
Residents will enjoy a full array of exceptional amenities including a movie theater, fitness center, indoor pool, lobby bar, art studio and salon. Services include chauffeured car service, garage parking and on-site concierge. Gourmet cuisine is prepared by professional chefs who use locally sourced and seasonal ingredients.
Residents also benefit with access to home care services through an on-site partnership with VNS Westchester that allows residents to receive the assistance they need to stay healthy and engaged.
Waterstone of Westchester is the latest best-in-class independent senior living community created by leaders in the field. EPOCH Senior Living is the owner/operator and National Development is the owner/developer. EPOCH Senior Living operates 16 senior living communities in the Northeast. Waterstone of Westchester is the company's first independent senior living community in New York State.
For more information about Waterstone of Westchester, visit www.waterstoneofwestchester.com or call 914-821-6369.