County's Business FIRST grant program supports organizations impacted by the COVID-19 pandemic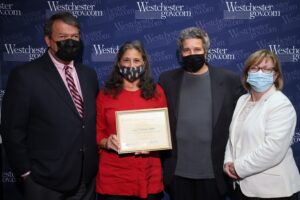 The Westchester County Office of Economic Development has awarded a total of $10 million to 262 county-based small businesses and nonprofits facing challenges as a result of the COVID-19 crisis. Recipients are located throughout cities, towns and villages in Westchester and include industries such as restaurants/food service; arts, entertainment and recreation; social services; education and more.
The funds are part of Westchester County Business FIRST: Financial Investments for Recovery and a Sustainable Tomorrow, a new grant program designed to offer immediate financial relief to organizations in Westchester County that have been negatively impacted by the pandemic.
"These are difficult times and we recognized the need to be innovative to support our vital small-business and nonprofit communities," said Westchester County Executive George Latimer. "The tremendous response we received to this grant program is testament to that, and by providing this urgent financial assistance today we can help set the foundation for a sustainable future."
Joining County Executive Latimer today at the awards announcement were owners of two recipient businesses and nonprofits: Maryanne Reda and Karen Bertolacci, owners of Clubhouse Social Stars LLC, an after-school social skills program in Hartsdale; and Mark Morganelli, founder and executive director, and Ellen Prior, associate director, of Jazz Forum Arts.
"Thank you to Westchester County, and particularly the Office of Economic Development, for this generous Business FIRST grant to Jazz Forum Arts. We're so grateful for the recognition that music, especially jazz, matters to Westchester's quality of life during this challenging time," said Prior. "Arts organizations everywhere are suffering, and we are no different. While we've sustained our Westchester audience with livestream shows since the start of the pandemic, this grant will enable us to expand our online capacity – paying for world-class jazz and Brazilian musicians, technical staff and equipment – to provide joy and solace to folks throughout the County."
The grant program, launched in September, was open to businesses and nonprofits with 99 or fewer employees. Eligible entities could apply for up to $49,000 to cover expenses such as rent or mortgage payments, employee salaries or benefits, working capital, equipment and other COVID-19-related expenses. Applicants needed to meet a number of eligibility requirements and applications were accepted between Sept. 21 and Sept. 30, 2020.
The full list of awardees will be made available once each awardee has signed their grant agreement. The county is working to secure funds for a second round of grants, which is expected to be announced in December. Businesses do not need to submit a second application. The county will authorize additional grant money based on available funds at that time.
The Westchester County Business FIRST grant program is being administered by the County Office of Economic Development through the federal Coronavirus Aid, Relief, and Economic Security (CARES) Act.
"Westchester County values our small businesses and nonprofits and recognizes the many contributions they make here," said Bridget Gibbons, Westchester County's Director of Economic Development. "As 'The Catalyst' for economic growth and vitality, the Office of Economic Development is here to support these organizations and help get our economy back on track."
For more information on available county programs and assistance, visit https://westchestercatalyst.com/business-first-programs/.