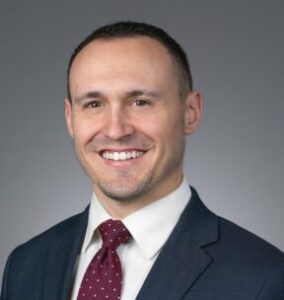 David Baumwoll, a resident of Tarrytown, has been named one of 60 Scholars from around the nation who will form the prestigious Presidential Leadership Scholars' (PLS) eighth annual class. PLS serves as a catalyst for a diverse network of leaders brought together to collaborate and create meaningful change in the United States and around the world as they learn about leadership through the lens of the presidential experiences of George W. Bush, William J. Clinton, George H.W. Bush, and Lyndon B. Johnson and their administrations.
The class was selected after a rigorous application and review process. Scholars were chosen based on their leadership growth potential and the strength of their personal leadership projects.
A former teacher and prosecutor, Mr. Baumwoll currently serves as Senior Associate at the law firm of Fischer Porter & Thomas, P.C. where he specializes in civil litigation. Prior to entering private legal practice, Mr. Baumwoll began his career as a Teach for America Corps member in Newark, New Jersey where he taught elementary school, coached basketball, and later served as an education program consultant for Mayor Cory Booker. After attending law school, Mr. Baumwoll served as an Assistant District Attorney in the Bronx County District Attorney's office where he prosecuted crimes related to human trafficking, gun trafficking, and public corruption. He then served as Associate Counsel for the New York City Mayor's Office of Criminal Justice where he led multi-agency criminal justice reform initiatives related to gun violence reduction, anti-human trafficking, opioid harm mitigation and prosecutorial accountability.  He has also served as consultant to the John Jay College's Institute for Innovation in Prosecution.
Apart from the law, Mr. Baumwoll is the co-founder of a political technology platform called Rep'd, dedicated to improving communication between leaders and communities.  Founded during the pandemic, Rep'd is used by political candidates and government officials to digitally connect with voters and was recently featured in WIRED Magazine.
Mr. Baumwoll is also the co-founder and Executive Director of the Student Movement Against Cancer (SMAC), Inc., a non-profit dedicated to empowering students to be the next generation of cancer fighters.  Founded in 2001 after Mr. Baumwoll's high school friend was diagnosed with cancer, SMAC now has more than a dozen chapters in New York, New Jersey, and Pennsylvania and has raised over two million dollars for cancer causes.  SMAC's national expansion efforts were featured on the CBS Morning Show.
Mr. Baumwoll is a graduate of Tufts University, the Harvard Kennedy School of Government, and Rutgers Law School. Mr. Baumwoll elected student body President at both Tufts and the Harvard Kennedy School. Mr. Baumwoll lives in Tarrytown with his wife Karen and two daughters.
"I am truly honored to be selected as a Presidential Leadership Scholar. By learning from the experiences of these past Presidents, as well as the inspiring cohort of leaders I will joining from around the nation, I hope to strengthen my leadership abilities and bring these skills back to Westchester to have a meaningful impact on our community," Mr. Baumwoll said.
During the six-month program, Mr. Baumwoll will also develop his personal leadership initiative focused on enhancing civic engagement.
Over the course of the program, Scholars will travel to each participating presidential center to learn from former presidents, key former administration officials, business and civic leaders, and leading academics. They will study and put into practice varying approaches to leadership and exchange ideas to help strengthen their impact.
The 2023 program began on Jan. 24 in Washington, D.C.