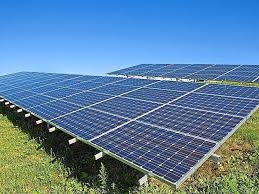 The Greenburgh Town Board met with a company that would like to build a solar farm in the East Irvington section of Greenburgh on Tuesday, December 4. CVE group is an international producer of renewable energy. They are reaching out to communities around the region trying to create solar farms. They have identified a site near Eiler Lane in E Irvington. The site is privately owned. They indicated that the proposed solar farm won't be seen by residents since the 11 acre property is surrounded by the Taxter Ridge Park Preserve -which won't be impacted by the initiative.  The site is on a hill making it not visible to most residents.
Residents who live near the farm could receive as much as 10% savings on their utility bills and the company is open to providing additional financial incentives to residents who live closest to the proposed solar farm.  The solar farm would feed energy directly into the power grid. Solar farms would make clean, solar power available to residents who live in sections of town that can't have solar panels.
The Town Board will be forming a neighborhood advisory committee that will meet with the applicant,  select consultants to conduct independent environmental reviews, etc.
If you reside in the E Irvington section of town and would like to join an advisory committee please email Greenburgh Town Supervisor Paul Feiner at pfeiner@greenburghny.com.
No application has been submitted as of yet–the meeting on December 4 was a preliminary meeting. Much more work has to be done before an application is submitted.  The Board will also reach out to the Irvington Fire department to solicit their feedback and will share info with Irvington officials.
A link to the discussion with the Town Board can be found at HERE.