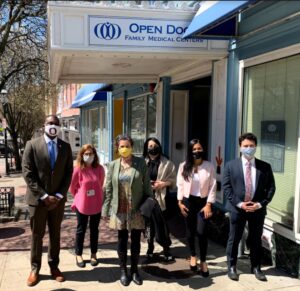 On April 5, Congressman Mondaire Jones (D-NY) visited the Town of Ossining to highlight the transformative impact of the American Rescue Plan, the $1.9 billion COVID relief bill he helped get passed into law last month, on small businesses and community health centers in Westchester and Rockland Counties.
During his visit, Congressman Jones spoke to the owners of local small businesses, including First Village Coffee, Theater O, and HealthSmart Pharmacy, all of which received funding from the Paycheck Protection Program (PPP) to help keep their businesses afloat.
The American Rescue Plan authorized an additional $7.25 billion in funding for the PPP, as well as $15 billion in additional Economic Injury Disaster Loans (EIDL) for small businesses and nonprofit organizations experiencing lost revenue and $28.7 billion for the new Restaurant Revitalization Fund, a new Small Business Administration (SBA) program to assist restaurants with expenses such as payroll expenses, rent, utilities, and supplies.
The Congressman also visited Open Door Family Health Center in Ossining, a community health center that has been active in combating the pandemic since its onset and will receive more than $14 million from American Rescue Plan. Last week, Congressman Jones announced that Community Health Centers across New York's 17th Congressional District will receive a total of more than $73 million from the American Rescue Plan, funding that can be used to expand their COVID-19 vaccination and treatment efforts.
"At the very onset of this pandemic, Westchester and Rockland were hit the hardest and the fastest, which is why I fought hard to help pass the American Rescue Plan and secure the funding our communities need and deserve," said Congressman Jones. "After a long year, help is here for Ossining and communities across our country thanks to the American Rescue Plan.
"I know I speak on behalf of the entire Town of Ossining board when I say how thrilled we are that Congressman Jones has helped secure this critical funding through the American Rescue Plan for our local businesses as well as for Community Health centers, and specifically Open Door Family Medical Centers," said Ossining Town Supervisor Dana Levenberg. "Open Door has been at the epicenter of COVID testing and vaccinations and has been helping support our local families in every aspect, from food insecurity to holiday gifts to directing them to critical resources, to providing school based health support for the Ossining School District as well."