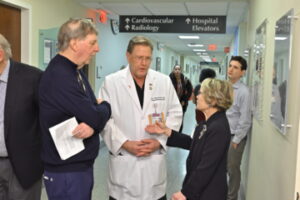 Three years ago, Covid-19 exploded into a global nightmare. New York City and its surrounding communities were at the center of it all. For 76-year-old Sleepy Hollow resident James Piereson, it was a personal nightmare.
Mr. Piereson, now fully recovered and healthy from a serious bout of Covid-19, nearly lost his life. He returned to Phelps Hospital today to join the medical team and other leading community members at a ribbon cutting event to dedicate a plaque thanking Phelps Hospital's health care heroes for being the community's light in the Covid darkness.
At the beginning of the pandemic, Owen O'Neill, MD, medical director, Division of Undersea and Hyperbaric Medicine at Phelps Hospital worked with his colleagues at the Feinstein Institutes for Medical Research, as part of a clinical trial using his oxygen hood that is traditionally used for hyperbaric treatment. They believed it would help patients whose oxygen levels had dropped very low and would require mechanical ventilation. He suggested Mr. Piereson be a candidate for the trial. Pierson spent 18 hours in hyperbaric chamber oxygen hood which delivered a steady stream of oxygen to his body. It saved his life.
"I was so careful but still caught Covid right at the beginning of the crisis," said Mr. Piereson. "Then my oxygen levels were so low that I collapsed at home and was immediately taken to Phelps Hospital. Every person here was responsible for my recovery, but a special thank you to Dr. Owen O'Neill and his experimental hyperbaric chamber oxygen hood which saved my life. It was a great solution for me."
Mr. Piereson went home after 10 days in the hospital. Later that April he was re-admitted to Phelps for a short stint due to blood clotting issues but went home in early May where his oxygen levels improved.
"I'm honored to be here today to pay tribute to the amazing and talented group of health care heroes at Phelps Hospital," said Kevin Plunkett, chair of Phelps Hospital Community Board. "James' story is just one of the many heroic events that occurred in these hallways during the initial dark days of the Covid pandemic. The solidarity and support this community provided to this institution during the Covid crisis was remarkable. It's an emotional day and a privilege to celebrate the light and beauty of the lifesaving work you do."
The ceremony not only recognized all the health care heroes at Phelps Hospital, but the local community who provided support with cards, letters, food and financial donations. During the pandemic, handwritten cards were displayed on walls throughout the hospital; these messages of encouragement showed hospital team members that their work was very much appreciated. Many of the of handwritten signs bore the words, "Thank you for being the light in the dark." This simple message eventually became the theme for this tribute and plaque that resides near the lobby of main entrance to the hospital.
"When Covid first hit Westchester three years ago, our County faced some of its darkest moments," said George Latimer, Westchester County Executive. "Yet in the face of this unprecedented global crisis, the strength shown by our County's fearless health care heroes showed us all that we can get through it. From our County's Department of Health to the staff at Phelps Hospital, to the countless number of health care workers who worked long hours, risking their own safety, these heroes paved the way for the recovery that was to follow. On this occasion, and every day, we salute and thank them."